Health Sciences Administration
August 22, 2013
New HSA Director of Finance and Administration Announced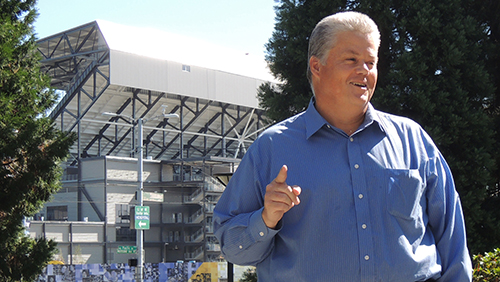 Bob Ennes newly announced Health Sciences Administration Director of Finance and Administration
August 20, 2013
Dear UW Health Sciences Community,
After a national search involving a very qualified group of candidates, I am pleased to announce that Bob Ennes is the new Health Sciences Administration (HSA) Director of Finance & Administration, effective today.
Bob Ennes has served HSA very capably in an interim capacity for the past three years. During that time, he has been instrumental in lending stability and providing valuable institutional insight during a period of transition and growth. In this permanent position, Bob will provide direction and management of administrative and financial operations within HSA, as well as ongoing analysis, oversight, process improvement and forecasting for the nine HSA-reporting units. These units include; Alcohol and Drug Abuse Institute (ADAI), Center on Human Development and Disabilities (CHDD), Washington National Primate Research Center (WaNPRC), Health Sciences Risk Management, HS Academic Services and Facilities, Environmental Health & Safety, Hall Health Center, UW Office of Animal Welfare, UW Medicine/Health Sciences Strategic Marketing & Communications. Bob will also be responsible for a variety of designated aspects of HSA coordination and support for the six UW Health Sciences Schools.
Bob will continue as an integral member of the HSA Executive Team, developing HSA policies and procedures and implementing best practices across the scope of HSA responsibility and activity. As HSA Director of Finance & Administration, Bob is accountable for translating HSA programmatic expectations to HSA units to ensure effective, efficient support to advance the UW mission and vision.
A Washington native, Bob earned his Bachelor of Arts in Political Science and attended law school at the UW. He has been employed at the UW since 1991, serving in increasingly responsible positions across Health Sciences Academic Services & Facilities before stepping into the interim position in Health Sciences Administration in 2010. His extensive knowledge of UW personnel and infrastructure, combined with his commitment to collaboration and effective partnerships, provided him with the robust platform and skillset required of this position. For those who don't know Bob, suffice to say that he is a passionately proud Husky.
I would like to thank the Director Search Committee for their work resulting in a very successful search: Gary Quarfoth, Kelly Johnson, Joe Delaney, Christene James, Gene Hutchinson and Peggy Smith. I was pleased to serve as Chair for this group and benefited from their thoughtful, professional approach to the search and selection.
Please join me in congratulating Bob as he resumes this key role in Health Sciences Administration.
Sincerely,
David M. Anderson, D.V.M.
Executive Director, Health Sciences Administration
www.depts.washington.edu/uwhsa/