Health Sciences Services
April 6, 2020
2020-2021 Magnuson Scholars Announced
On behalf of the University of Washington six Health Sciences Schools and the Magnuson Scholar Program, I am pleased to announce the 2020 – 2021 Magnuson Scholars. Each scholar was nominated by their respective Health Sciences School on the basis of outstanding academic performance and potential contributions to research in the health sciences. We appreciate your support of these scholars and our efforts to fully recognize their achievements while acknowledging Warren G. Magnuson's extraordinary public service career.
David M. Anderson, DVM
Executive Director
Health Sciences Administration
The 2020-2021 Magnuson Scholars are:
Yan Ting (Blair) Zhao
School of Dentistry
Naomi Nkinsi
School of Medicine
Nathan Dreesmann
School of Nursing
Amy Li
School of Pharmacy
Haylea Hannah
School of Public Health
Asia Bishop
School of Social Work
---
Scholar Profiles
Yan Ting (Blair) Zhao
School of Dentistry
Yan Ting (Blair) Zhao is pursuing a Ph.D. degree in Oral Health Sciences at the University of Washington's School of Dentistry. Blair has always dreamed of becoming a scientist to research regenerating natural teeth to help those suffering from negative impacts such as tooth sensitivity and discoloration, she hopes to be able to bioengineer tooth organoids to ultimately regenerate a whole tooth. Blair's passion for stem cells and tissue regeneration has led her to pursue a career as an academic researcher. She hopes to help patients suffering from congenital diseases such as amelogenesis imperfecta and tooth loss due to diabetic or non-diabetic periodontal disease. Upon completing her Ph.D., Blair will continue learning as a post-doctoral trainee to expand her experimental techniques and scientific research skills. Her long-term goal is to become an academic research professor and to continue learning and dissecting the biology of tooth development. In addition to research, Blair is passionate about supporting young students with disadvantaged backgrounds to pursue an academic pathway in science.
Hannele Ruohola-Baker, Associate Director, Institute for Stem Cell and Regenerative Medicine, notes that, "My frank assessment of Blair is that she is an exceptionally driven, talented and determined young, woman scientist. She is a positive, creative thinker who will be a future leader in her field with a strong drive towards translational research. I am very committed to help her to get to that point. Further, she is not only in a trajectory for becoming a great independent scientist, but she will also be a leader and an inspiration for other immigrant, minority students."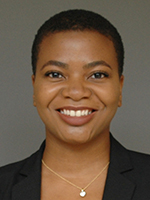 Naomi Nkinsi
School of Medicine
Naomi Nkinsi is pursuing a doctorate in Medicine and also a masters degree in Public Health. Having been born in Cameroon, Naomi is uniquely positioned to reflect on the contrast between the medical resources available in various countries and the public health challenges that exist. Naomi had the unique opportunity to participate as a freshman as a research fellow through Harvard and MIT, a program typically reserved for juniors and seniors. Already Naomi has contributed to research that allowed for the real-time monitoring of the 2014 Ebola outbreak in West Africa, the characterization of a congenital contracture disorder, the identification of new drug targets and vulnerabilities of non-small cell lung cancer, and most recently, she studied the impact of food insecurity on HIV outcomes in South Africa. She is particularly interested in becoming an HIV physician/scientist because of the unique life-long impact this disease has on an untreated individual's wellbeing, denying them the opportunity to thrive and obtain economic and social stability.
One of Naomi's mentor's, Paul K. Drain, Associate Professor Departments of Global Health, Medicine (Infectious Diseases), and Epidemiology Associate Director, Tuberculosis Research and Training Center, offers high praise, "In my interactions with Naomi, I continue to be impressed by her curiosity and dedication to becoming a lifelong learner. Naomi has taken the lead in the analysis of this research project and has gone above and beyond in guiding her own education in various biostatistical tools and techniques. She is an incredibly driven student, a self-starter, and has been a fantastic addition to my research group."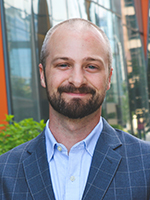 Nathan Dreesmann
School of Nursing
Nathan Dreesmann is a Washington state resident and a third-year student in the Doctor of Philosophy in Nursing Science program. Nathan earned his Bachelor of Sciences in Nursing with Honors from UW in 2014, and a Bachelor of Sciences in Kinesiology from Westmont College in 2009. Rising rates of chronic opioid use after surgery, escalating deaths due to opioid overdose, and the large number of side effects from opioid use have led to a growing emphasis on various non-pharmacologic treatments for acute pain, which spurred Nathan's interest in exploring virtual reality as a form of pain treatment. Independently, both virtual reality (VR) and meditation are effective non-pharmacologic therapeutics to promote acute pain relief, but their combination (VR meditation, or VRM) has not been studied for APP management. Nathan's research will evaluate the effectiveness of virtual reality combined with meditation to improve pain-management in post-operative patients. Through improved pain self-management, patients may require shorter hospital stays and reduced pharmacologic therapies. Nathan's background in nursing science which emphasizes biological, psychological, and sociocultural impacts on health gives him a unique perspective among those currently performing VR pain research. Furthermore, this holistic perspective provides ample opportunities to pursue new areas of research that emphasize integration of VR therapeutics into various clinical settings, clinical populations, and into nursing practice. Nathan's long term goal is to seek and be appointed to a tenure-track faculty position at a research intensive academic institution. Nathan's unique forward thinking research truly embodies the spirit of the Magnuson Scholar Program.
Hilaire Thomspon, PhD, RN, ARNP, AGACNP-BC, FAAN, Joanne Montgomery Endowed Professor, states that, "Mr. Dreesmann shows outstanding potential for a research career in nursing. He is highly regarded by faculty and his peers in the doctoral program for his passion for scholarly inquiry and research activities, his desire to improve pain management, and his excellent communication skills. I am confident that he will be successful in contributing to the development of innovative and evidence-based interventions for non-pharmacologic pain management in patients in the acute postoperative phase. With this letter, I provide my strongest recommendation to you for this Scholarship without reservation."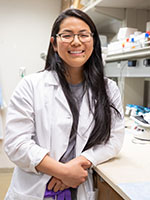 Amy Li
School of Pharmacy
Amy Li holds a bachelor's degree in biochemistry from Pepperdine University and is currently pursing a doctorate degree in Medicinal Chemistry at the University of Washington's School of Pharmacy. Amy is motivated by her desire to work at the interface of basic science and patient-oriented research. Following her first year of graduate school, Amy joined the research group of Dr. Libin Xu to study the underlying molecular mechanisms that regulate disorder progression and development of the neurodevelopmental cholesterol biosynthesis disorder, Smith-Lemli-Opitz syndrome. One aspect of her project that involves studying the brain lipidome of developing mice, has implications beyond the context of the rare metabolic disorder, and highlights the importance of understanding lipid metabolism on a broader scale in health and disease. Amy anticipates that her research project will contribute to the advancement of developing therapies and improvement of diagnostic tools for the rare disorder. After graduation, she intends to continue to work in research areas that challenge her to think critically about a significant problem that impacts human health, whether in the academic or government sectors.
"Amy is a very intelligent and hardworking student with an outstanding academic record. Her consistently exceptional records indicate her strong drive to be the very best. Her research project is highly translational and pertinent to health sciences. Over the years, she has developed into a leader and a great mentor to newer members in the lab. Thus, Amy is an ideal candidate for the Magnuson Scholar. I give her my strongest recommendation," states, Libin Xu, Ph.D., Assistant Professor
Department of Medicinal Chemistry.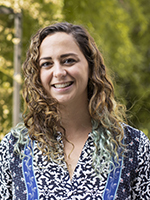 Haylea Hannah
School of Public Health
Haylea is currently pursuing her Ph.D. at the UW School of Public Health. Haylea was first introduced to public health surveillance as a graduate student researcher at the Centers for Disease Control and Prevention while earning an MSPH from Emory University. This experience sparked her passion for applied epidemiologic research that supports local and state agencies. She applied and was selected for the competitive CSTE Applied Epidemiology Fellowship. She is committed to assessing research gaps and providing the scientific evidence needed to inform evidence-based criminal justice and public health policies. Her dissertation research will evaluate the impact of using medications, such as methadone, buprenorphine, and naltrexone (vivitrol), to treat opioid use disorders in the criminal justice system at the individual and county levels in California. After completing her Ph.D., Haylea plans to continue examining these factors as an independent investigator by collaboratively working with public health and criminal justice agencies to advance substance use disorder prevention and treatment policy development and refinement. She also hopes to provide teaching and mentorship opportunities to the next generation of health researchers, and to continue to assess important health gaps to provide an evidence-base for prevention and treatment in communities that are often overlooked.
"Haylea Hannah demonstrates a deep passion for producing research that drives action to improve population outcomes making her a superb candidate for this recognition which is grounded in supporting emerging researchers working to advance important and impactful research. I am proud to nominate her. Thank you very much for considering her for this award," says Ali Rowhani-Rahbar, Bartley Dobb Professor for the Study and Prevention of Violence and Associate Professor of Epidemiology, School of Public Health.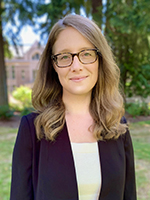 Asia Bishop
School of Social Work
Growing up in a rural Washington community, Asia Bishop's life experiences, combined with her deep empathy for all youth who face inequitable access to needed services, has shaped her scholarly identity and career objectives. Addressing persistent health disparities for youth from underserved, marginalized populations is her primary career objective and is reflected in her program of research and mezzo-level practice. Asia draws on public health frameworks and social work practice ideology to inform a research agenda that moves beyond broad characteristics to better discern nuance in social service and health care needs – imperative to ensure services are appropriately tailored and responsive. Asia's dissertation will examine heterogeneity in mental, physical, and sexual health among gang involved youth, including the role of identity and social ecology for shaping variation in health risk profiles. She has proposed a multi-method dissertation, including a qualitative content analysis of the youth gang literature and person-centered quantitative analyses of state-representative data. Asia plans to defend her dissertation and graduate in June 2021.
Paula Nurius, Ph.D., Associate Dean for Transdisciplinary Scholarship, Grace Beals-Ferguson Scholar, Professor, praises Asia's work ethic and collegiality, "In her time at the University of Washington, she has demonstrated outstanding academic performance. I have been consistently impressed with Asia's talent and tenacity in her studies and research. She has demonstrated effectiveness in working with a range of multidisciplinary as well as interprofessional teams and workgroups. Although intensely busy, I have also been struck with Asia's generosity. She has repeatedly reached out to other students to provide mentorship (e.g., to MSW and undergraduate students, honors projects, theses) as well as peer support collegiality. That kind of sustained, but behind the scenes, contribution is an important part of being a team player… Asia would be an exceptional asset to the aims of the Magnuson Award as well as to future social justice and health promotion aims for the populations that she has chosen to serve."