Health Sciences Administration
January 3, 2019
20th Anniversary Celebration of the MLK Tribute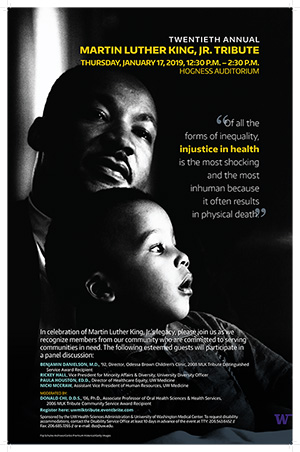 20th Anniversary Celebration of the Martin Luther King, Jr. Tribute
Date:
Thursday, January 17, 2019
Time:
12:30 – 2:30 p.m.
Location:
Hogness Auditorium
Address:
1959 NE Pacific Street
Seattle, WA 98195
Join us for the 20th Anniversary celebration of the Martin Luther King, Jr. Tribute hosted by UW Health Sciences and UW Medical Center.
We will celebrate the life and legacy of Dr. King and honor UW staff, faculty, and students for outstanding community service.
There is a permanent plaque in the Health Sciences Lobby honoring all of the past and present Distinguished Service Award recipients. This is the 20th annual celebration.
This year, we'll have a special panel discussion about the role of health equity in serving the community.
Panelists:
Benjamin Danielson, M.D. '92, Director, Odessah Brown Children's Clinic, 2008 MLK Tribute Distinguished Service Award Recipient
Rickey Hall, Vice President for Minority Affairs & Diversity, Chief Diversity Officer
Paula Houston, Ed.D., Director of Healthcare Equity, UW Medicine
Nicki McCraw, Assistant Vice President, Medical Center Human Resources Operations
Moderated by:
Donald Chi, D.D.S. '06, Ph.D., Associate Professor of Oral Health Sciences, 2006 MLK Tribute Community Service Award Recipient
Register here: https://uwmlktribute.eventbrite.com
Reception with light hors d'oeuvres and beverages to follow in the Health Sciences Lobby.