Health Sciences Administration
April 16, 2013
Hall Health Center Management Transition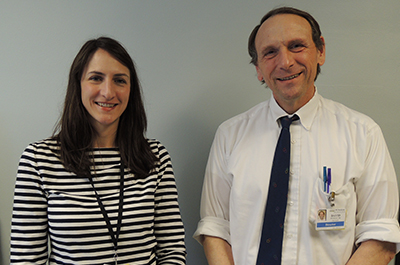 Rachel Gerken, Interim Manager of Hall Health Center's Mental Health Clinic and D.C. Dugdale, Director of Hall Health Center
Hall Health Center Director Dr. David C. Dugdale is pleased to announce that Rachel Gerken, LMHCP, will serve as the interim manager of Hall Health Center's Mental Health Clinic effective April 16. Gerken is a Licensed Mental Health Therapist who began working at Hall Health Clinic in 2012 and has worked as a therapist since 2004.
As interim manager of the Mental Health Clinic, Gerken has administrative responsibility for patient access and clinic operations, quality and quality improvement, performance, and productivity. She also provides leadership in the design, development, and delivery of mental health programs and services for clients of the Hall Health Mental Health Clinic. As a licensed mental health professional, Gerken also provides mental health evaluation and therapy to individuals, couples and groups.
Already familiar with the patients, personnel, and leadership, Gerken looks forward to this new opportunity to serve Mental Health Clinic patients and advance the mission and strategic goals of Hall Health Center.
Gerken's predecessor, Dr. Anil Coumar, is leaving the University to pursue private practice, after 18 years as a therapist at Hall Health Mental Health Clinic and 10 years as its director. At the recent Mental Health Clinic retreat, Dugdale expressed his sincere thanks to Dr. Coumar for his manifold contributions to Hall Health Center over the course of his tenure.