Health Sciences Administration
February 13, 2014
Health Sciences/UW Medicine News Site Premieres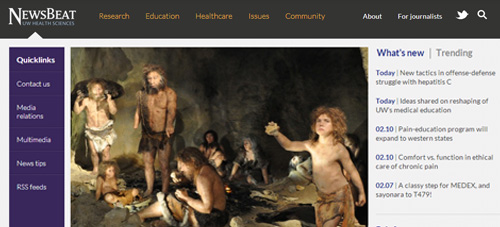 Introducing HSNewsBeat, a website spotlighting news from UW's health sciences – Dentistry, Medicine, Nursing, Pharmacy, Public Health and Social Work – and from UW Medicine.
HSNewsBeat is aimed to raise awareness of UW's substantive impact on health research, care and education. We explore topics in narratives, Q&A's and multimedia. We've covered topics such as Neanderthal genes, an altruistic-donor kidney transplant, new curriculum ideas for the medical school, and how high-tech seats ease long-haul truckers' rides. We just posted the second piece in a series about medical ethics. The site also highlights external media coverage.
Our homepage and category pages are intentionally uncluttered for readers' ease, to allow for easy scanning and to give prominence to great photos. At the story level, photos expand with a click and videos open in a window that hovers above the page.
Take a look! We welcome your story ideas about programs, people, research, therapies and techniques connected to UW's commitment to improving individual and public health. hsnewsbeat.uw.edu