Health Sciences Administration
March 20, 2013
Mish McEntire of WaNPRC Earns Seattle Shield Award
Gail Ellingson informs us that Mish McEntire received the Seattle Shield Excellence Award from the Seattle Police Department on March 12, 2013.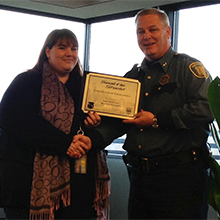 Mish was recognized for her actions to identify and accurate report details from two suspicious events that occurred in one day at the WaNPRC's Western Facility.
McEntire had two separate suspicious incidents in one day. She recognized the behavior and documented it in detail, recovered video of the incidents and provided a timeline of what occurred for easier review. She then called 911 and reported the incidents and followed up by contacting Timothy Renihan of the Seattle Police Department. Renihan handles criminal intelligence in the area of the Western building.
"Mish McEntires' attention to detail, following set protocol and documentation of the incidents were outstanding," says Renihan. " She set the bar for how to report and document incidents to Seattle Shield. I have worked with Mish for several years and she is always professional and goes above and beyond what is expected."
Joe Delaney, Gail Ellingson and Marty Hansen accompanied Mish to the Seattle Shield Award presentation held in the 40th floor conference center at the Columbia Tower.
Seattle Shield was established in 2009 and is a collaborative partnership for sharing information and resources between the Seattle Police Department and select entities in the downtown Seattle core. Seattle Shield membership is comprised of private and public-entity security managers as well as local and federal law enforcement who secure Seattle's critical infrastructure. This includes prominent office towers, Seattle's primary sporting venues, national landmarks, and public transportation partners.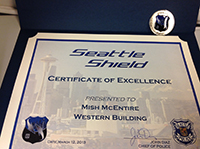 The success of the Seattle Shield Organization depends on communication from all of their partners. Staff onsite have a working knowledge of locations they secure and are more likely to notice suspicious behaviors at these areas than law enforcement. Their ability to report suspicious behaviors to Seattle Shield allows law enforcement to follow up on alerts and together achieve success in the mission of protecting Seattle. All suspicious activity reported is generally behavior based. It is important to keep in mind that suspicious behaviors, such as taking photographs, is not a criminal act but may be indicative of future criminal intentions. Mish McEntire has reported multiple incident to ensure police follow up.
Mish continues to provide outstanding Facilities security assistance for the WaNPRC. Thank You Mish!