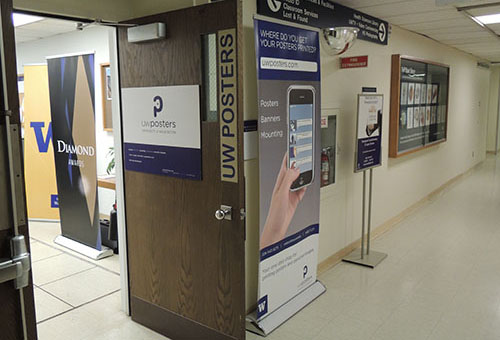 Academic Services & Facilities Website
Mission:
Health Sciences Academic Services and Facilities is a multi-disciplinary department that provides services from graphic and web design to network support to classroom scheduling while containing costs and anticipating clients' needs.
Who We Are:
The Health Sciences Academic Services and Facilities unit is made up of 10 divisions that support the building and academic needs of the University of Washington Health Sciences community.
Divisions:
The Director's Office provides administrative support to the Health Sciences community, develops building security standards, emergency response programs, specifications for research labs, reviews and oversees plans for remodel and renovation of the Health Sciences facilities. The Director of the Health Sciences Academic Services and Facilities works closely with and reports directly to the Executive Director of Health Sciences Administration. The Director's Office is located in the Health Sciences Building (HSB), room T-270.
Building Management provides photo ID badges, key-cards, and after-hours security for the Health Sciences Community. They are located in HSB, room T-283.
Classroom Services provide AV equipment, and other equipment rentals to support activities in the Health Sciences Building, South Campus Center and the William H. Foege building. Equipment reservations can be made over the phone at 206-543-6729 and picked up at HSB, room T-291A.
Health Sciences Room Reservations provide classroom and conference room scheduling for the Health Sciences Building and South Campus Center. Their main office is located in South campus Center (SCC) room 335. Health Sciences Rooms are reserved primarily through the online RoomQ system with priority given to academic courses and related activities
UW Creative provides an array of services including, photography, graphic design for print materials, web design, medical and scientific illustration, certificate design and printing, poster design and printing, production of certificates, framing services, and an array of photography services. UW Creative is located in HSB, room T-265.
UW Posters provides on campus printing of posters, signs, and other academic publications. Printing projects can be created through their online ordering system. Their services are available Monday through Friday from 7:30 a.m. to 5:00 p.m. Contact UW Posters at (206) 543-9275, uwposter@uw.edu or visit HSB room T-271.
Computing Support provides onsite computer support for Mac or Window systems throughout the University of Washington community, they also provide IT policy and procedure development for departments and labs, and have a number of specialists. For more information on their rates and services click here. Computing Support is open Monday through Friday from 8 a.m.to 5 p.m. and can be reached at (206) 616-6984, helpdesk@u.washington.edu or visit HSB T-245.
Clinical Skills and Simulations provide a number of instructional services including curricular and research consulting, clinical laboratory setups, instructional design, and clinical skills and physical examination practice. Clinical Skills Simulations is available Monday through Friday from 8 a.m. to 4 p.m. at (206) 685-4007, or visit HSB T-562 or T-563.
Laboratory Services provides a variety of services to research and teaching laboratories within the Health Sciences complex including glassware washing and sterilization of lab supplies, biohazard waste sterilization, preparation of microbiology media, autoclave services, and reagent and stain preparation. For a list of their prices and services click here. Laboratory Services is located in HSB T-276.
Scientific Instruments is comprised of two divisions: biomedical electronics and machine shop. They provide support in manufacture, testing and maintenance of clinical and research equipment. They are open Monday through Friday from 8 a.m. to 4:30 p.m. in HSB T-264 and G-156.