Health Sciences Administration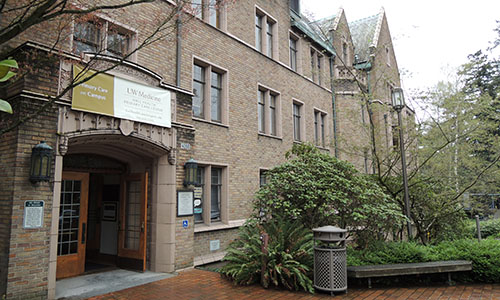 Hall Health Center (HHC) is an outpatient clinic that provides health care to University of Washington students, alumni, faculty, and staff as well as the general community.
We are a multispecialty group practice closely associated with UW Medicine, the clinical arm of the UW School of Medicine, one of the finest medical schools in the country. Our physicians and nurse practitioners are board certified and hold clinical faculty appointments at the University of Washington School of Medicine. We are committed to providing you with the best outpatient health and medical care services available.
HHC achieves the highest standards of outpatient medical care, as recognized by obtaining full accreditation status from the Accreditation Association for Ambulatory Health Care (AAAHC).
---
Mission
Our mission is to facilitate the academic success of UW students and the well-being of all of our patients through a commitment to high quality patient-centered health care.
---
Vision
HHC will provide the best primary health care and health promotion services available. UW students will have their academic success supported by accessible health care. Through collaboration with UW entities, HHC will meet the ever-changing needs of UW students.
---
Values
For our patients we strive to:
Provide high quality, patient-centered, cost-effective, and timely primary, specialty, and mental health care, and health promotion services in a safe and nurturing environment.
Respect and respond to the diversity of the people we serve.
Empower and equip our patients with reliable and accessible health information through open communication between patient and health care team, our E-care system, and the HHC website.
For our employees we seek to provide:
A worker-friendly environment, which recognizes and rewards employees for their professional contributions and creates the opportunity and incentive to achieve full potential as contributing members of the practice team.
A setting that offers and promotes open communication, respect, honesty, teamwork, and integrity.
Flexibility and responsiveness to the changing conditions and priorities in the workplace and shared responsibility for processes and outcomes.