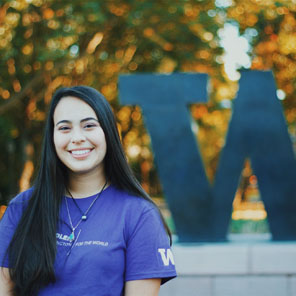 Mariela Galvan
American Ethnic Studies / Education, Communities and Organizations
Mariela Galvan is a rising senior at the University of Washington double majoring in American Ethnic Studies and Education, Communities and Organizations, and double minoring in Diversity and Oceania Pacific Islander Studies. Coming from a migrant farmworker background, she is interested in researching labor and social issues that impact farmworker communities, specifically how these issues impact education for the children of these families and how academic institutions can better serve these communities.
Mariela is heavily involved in mentoring first-year underrepresented students. In the past two years, she has mentored six students through organizations such as the College Assistance Migrant Program, Leaders del Futuro, and Mentor Power for Success. She has also interned at El Centro de la Raza, a non-profit dedicated to serving marginalized communities, and worked as an Administrative Assistant for their 45th Annual Gala. This summer, she will be participating in the Summer Institute in the Arts and Humanities where she will be researching Seattle's history with Native land, specifically around the Duwamish and Coast Salish lands where the University of Washington's campus resides on today.
Upon completing her studies and receiving her Ph.D. in Ethnic studies, she hopes to come back to the University of Washington and inspire other students of underrepresented backgrounds to pursue higher education by working in programs that allowed her to succeed, such as the programs affiliated with the Office of Minority Affairs and Diversity. In her spare time, she enjoys hikes, walks, and spending time with family and friends.