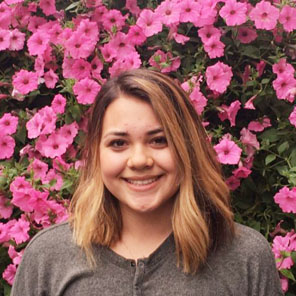 Teresa Mata
Public Health
Teresa Mata-Cervantes is a 5th year senior in the Public Health major. Junior year she transferred from Wenatchee Valley College (WVC) located in her hometown of Wenatchee. She is a Mexican-American and first-generation college student.
During her undergraduate experience, Teresa has worked for TOGETHER, a nonprofit focused on drug prevention among youth and Community Choice, a local health organization in Wenatchee. Through these experiences Teresa was introduced to health communications and health promotion which sparked her interest in Public Health. More recently, Teresa served as Vice President for Unidas Seremos, a student organization at UW; studied abroad and conducted ethnographic research in Athens, Greece; conducted her own qualitative study focused on Promotoras De Salud; and completed a summer internship through Columbia University called Summer Public Health Scholars Program.
As a scholar, Teresa is interested in research within the areas of health promotion, Promotoras De Salud and Health Communications. Specifically, she is interested in improving the dissemination of health information through culturally-tailored strategies and exploring adolescent perspectives on patient-provider communication when interpreting health information for Parents/Legal Guardians. After earning her B.A. in Public Health, Teresa hopes to earn her Master's and PhD in Public Health and incorporate community-based participatory research in her future work to improve health literacy and prevent adverse health outcomes among marginalized communities.
In her spare time, Teresa enjoys spending time with friends, family and her pets, trying new food and exercising.