---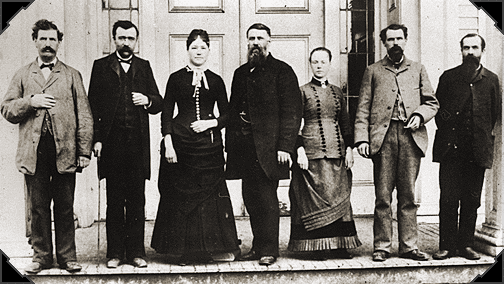 "Just Kidding! We're down below."
---
*Patricia Shehan Campbell, Professor, Music Education
Ph.D., Kent State University; B.F.A., Ohio University.

Patricia Shehan Campbell teaches undergraduate and graduate courses in music education, including music for children, world music education, sociology of music, and research methods. She has lectured and conducted clinics throughout the United States, in much of Europe, Asia, Australia, New Zealand, and South Africa. She has published numerous books, including Lessons from the World, Music in Cultural Context, Music in Childhood, Roots and Branches, and Songs in Their Heads: Music and Its Meaning in Children's Lives. She serves on the editorial boards of Research Studies in Music Education, Psychology of Music, and the College Music Symposium, and is a member of the Council of the Society for Ethnomusicology.




---

Tom Collier, Percussion and Jazz Pedagogy
B.A., University of Washington
Tom Collier is a vibraphonist, drummer and percussionist with expertise as well in jazz, popular music and MIDI technology. He is a respected artist in Seattle as well as in Los Angeles and is listed in the first edition of Marquis Who's Who in Entertainment. His 1988 album "Illusion" received national critical acclaim ("a technological marvel" - Electronic Musician Magazine).


---

*Steven M. Demorest, Associate Professor, Music Education
Ph.D., University of Wisconsin-Madison, M.M. Westminister Choir College, B.A. Luther College
Steven M. Demorest is a choral music education specialist with a background in group vocal techniques, technology and sight-singing research. He is the author of Building Choral Excellence: Teaching Sight-singing in the Choral Rehearsal forthcoming from Oxford University Press.

Demorest has worked with such renowned conductors as Weston Noble, Joseph Flummerfelt and Robert Fountain. He has conducted and taught on both the high school and college level, and is currently the music director for the Northwest Chamber Chorus, a select 45-voice adult ensemble in Seattle. Dr. Demorest is a nationally known clinician having recently presented sessions at the Music Educators National Conference and the Washington Music Educators Association Conference. He is the author of articles on choral music pedagogy and research in the Journal of Research in Music Education, the Choral Journal, the Music Educators Journal, and Update: Applications of Research in Music Education.




---

Barbara Lundquist, Professor Emerita
D.M.A., University of Washington; M.S., Montana State University

Author of numerous articles on music education and systematic musicology, Barbara Lundquist is an internationally known author and clinician in multiethnic multicultural music education. She is president of the College Music Society, and has served on the CMS board and committees in various capacities. She has been a member of executive board of the MENC Society for General Music and the Society for Music Teacher Education, a member of Standing Committee for Music Education of the Society for Ethnomusicology, and of the editorial board of Design For Arts In Education. Lundquist was a consultant for the Yamaha Music in Education Project, and for the Annenberg Distance Learning Audio course on Basic Concepts of Music. She has servd as Curriculum consultant for music education in Malawi and Mozambique-Central Africa for the United States Information Service. Her research and curricular philosophy are featured in articles in the Council on Research in Music Education, the Music Educators Journal, the International Journal of Music Education, and the College Music Symposium.



---

*Steven J. Morrison, Assistant Professor, Music Education
Ph.D., Louisiana State University; M.M., University of Wisconsin; B.M., Northwestern University

An instrumental music specialist, Steven Morrison has taught at the elementary, junior high and senior high levels in Wisconsin, Michigan and Louisiana. He has conducted and arranged for school and university bands, orchestras and chamber groups throughout the U. S. In addition to his work in instrumental teaching and learning, Dr. Morrison is active in research investigating music preference and the relationship of musical responses to diverse cultural contexts. Prior to joining the UW faculty, Dr. Morrison served as Lecturer of Fine Arts at the Hong Kong Institute of Education. He has spoken and presented research throughout the United States as well as in Amsterdam, Amman, Seoul and Hong Kong. His articles have appeared in the Music Educators Journal, the Journal of Research in Music Education, the Bulletin for the Council of Research in Music Education, Update: Applications of Research in Music Education, the Missouri Journal of Research in Music Education, Recorder: Ontario Music Educators Association Journal, the College Music Society Newsletter and Southern Folklore. Dr. Morrison is a member of the Music Educators National Conference, the College Music Society and the International Society for Music Education, and is National Chair-elect of the Perception Research Interest Group of the Society for Research in Music Education.



---

*Tim Salzman, Professor, Director of Wind Ensembles
M.M., Northern Illinois University; B.M.E., Wheaton college.

Under Tim Salzman's direction, the UW Wind Ensemble has performed at a number of conventions including the Northwest Music Educator's Convention, the Washington Music Educator's Convention, and the Western/Northwestern Division Convention of the College Band Director's National Association. Prior to his appointment at the UW. he served as director of Bands at Montana State University where he founded the MSU Wind Ensemble. From 1978 to 1983 he was band director in the Herscher, Illinois public school system. During his tenure at Herscher the band program received several regional and national awards in solo/ensemble, concert and marching band competition. He has numerous publications for bands with the C.L. Barnhouse, Arranger's Publications, Hal Leonard and Columbia Pictures Publishing companies, and is on the staff of new music reviews for The Instrumentalist Magazine. Salzman is a national artist/clinician for the Yamaha Corporation of America and has been a conductor, adjudicator or arranger for bands in over thirty states, Canada, England and Japan.

---

*Potential Members of Supervisory Committee