Husky Battalion has produced many fine graduates. All of them are inscribed on plaques with their commissioning class in the hall in front of the 2nd deck classroom at Clark Hall. Below are the alumni inducted into the Battalion Wall of Fame.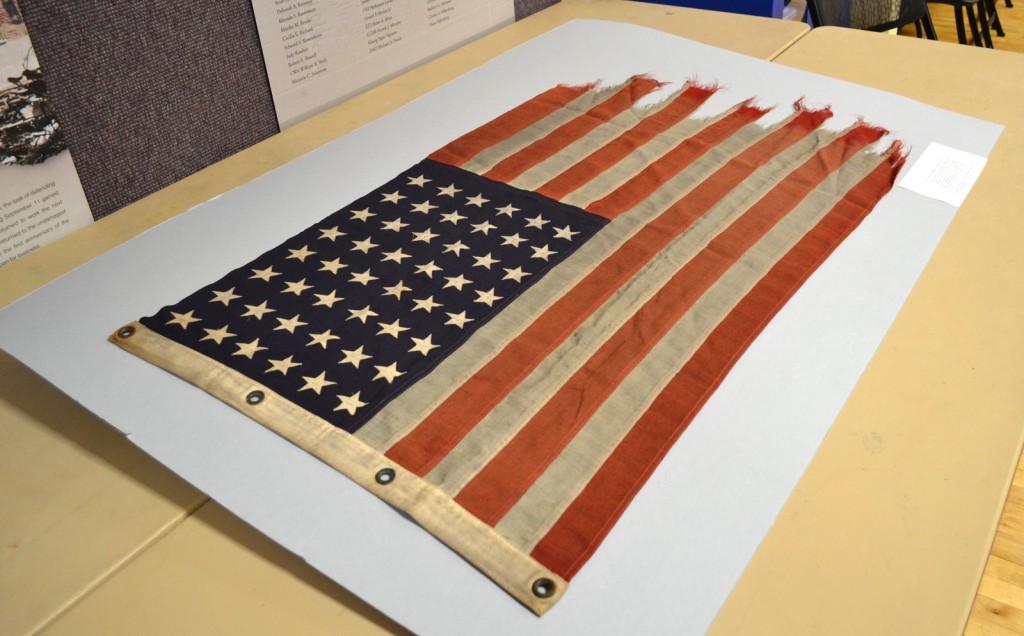 On permanent loan from Naval History and Heritage Command, UW NROTC has the battle ensign from the USS Samuel B. Roberts, a WWII destroyer escort which was commanded by LCDR Robert W. Copeland during the Battle of Leyte Gulf. The caption is as follows:
USS Samuel B. Roberts (DE-413) Battle Ensign
The flag you see was the battle ensign flying on USS Samuel B. Roberts (DE-413), lost in October 1944 during the Battle of Samar, climaxing the Battle of Leyte Gulf. During this battle, a collection of relatively light U.S. Warships prevented a much larger Japanese force from attacking the amphibious invasion fleet off the Philippine island of Leyte. Roberts was inadvertently left alone to fend off heavily armed Japanese battleships, cruisers, and destroyers. Steaming aggressively through a gauntlet of incoming shells, Samuel B. Roberts scored one torpedo hit and numerous gunfire hits as she slugged it out with larger enemy warships before finally being sunk. After the battle, Samuel B. Roberts received the nickname "the destroyer escort that fought like a battleship." Roberts was commanded by LCDR Robert Copeland, a 1935 graduate of the UW NROTC unit. The flag was retrieved by Chief Torpedoman Rudy Skau from the sinking ship as she went down in the melee.
Here is the story of how the flag came to the University of Washington.