Student Veteran Life
University of Washington in World War I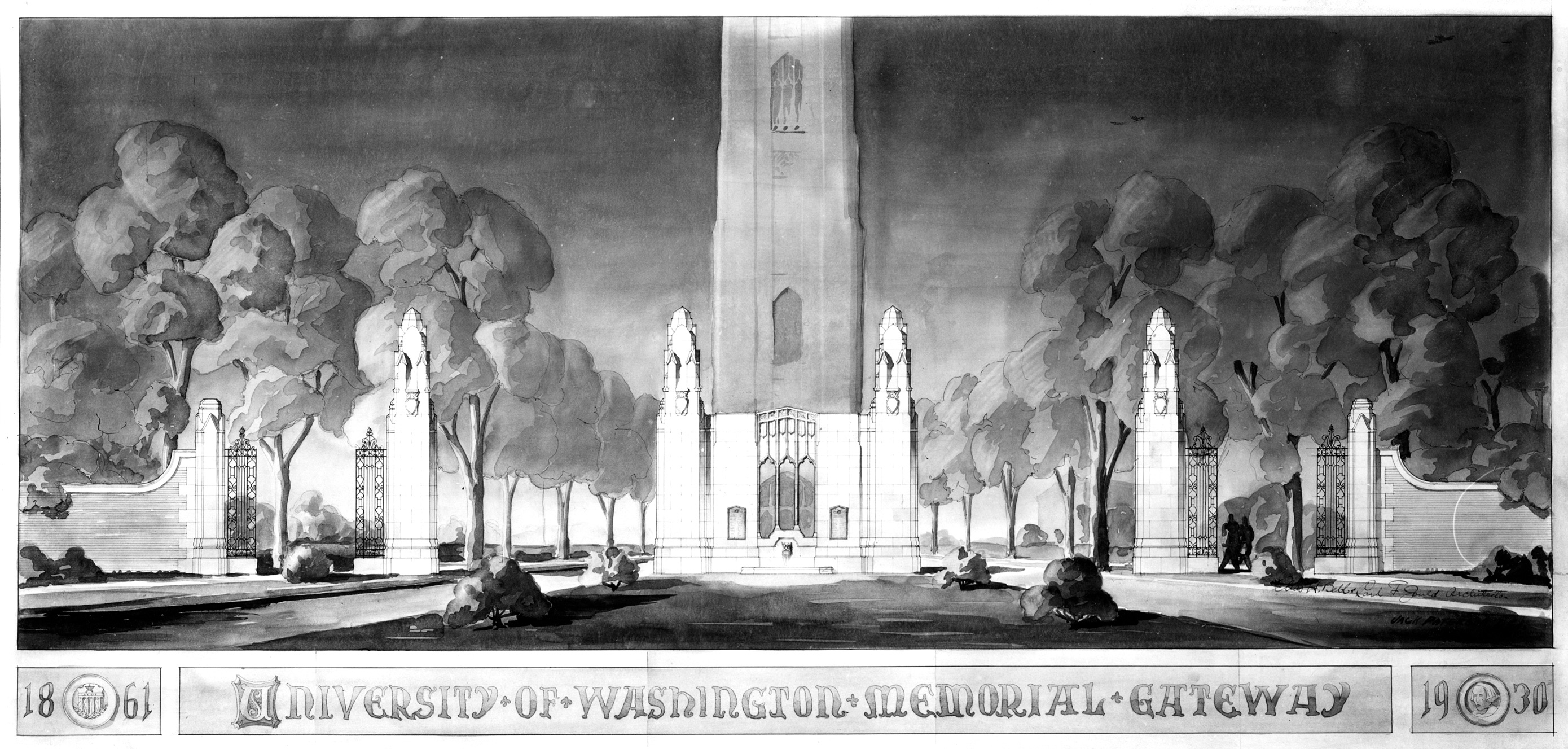 More than 1,500 students and faculty members were enrolled in military service from April 1917, when America entered World War I, until the war ended with an armistice on November 11, 1918. A total of 58 alumni, students and faculty members died in the war. The University of Washington was unique among institutions on the West Coast in offering training for the three military branches: Army, Navy, and Marines. The largest encampment, which took over the golf course on south campus, was dedicated to naval training. Temporary housing arose for more than 700 Navy men, including some who had recently been students and some who were already in the Navy. The space reverted to a golf course after the 1918 armistice. It is now the sit of the Warren G. Magnuson Health Sciences Center and UW Medical Center. (University of Washington, Antoinette Wills and John D. Bolcer).

History of the World War I Monument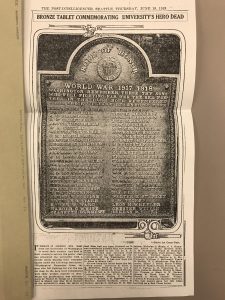 The University of Washington's World War I Memorial features an arch with two pillars containing a plaque with the 58 names of the fallen soldiers from University of Washington. It also features a long row of fifty-eight London Plane (sycamore) trees dedicated to those soldiers, as tree planting had always been a common tradition of the University. Today, the World War I Memorial has expanded across an entire street, Memorial Way, with a total of 101 trees, and is still well maintained and deeply appreciated by University of Washington staffs, students, and many visitors (Marmor 1).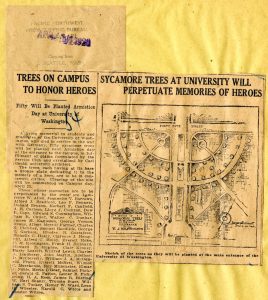 Although is it much appreciated today, at first, there was much debate as to whether the University of Washington should dedicate a memorial to its fallen students, staffs, and alumni. But after receiving positive responses about the idea, University of Washington began planning the Memorial with Edmond S. Meany, a professor at the University of Washington who led the project.
On July 11, 1918, Judge Clay Allen contacted Henry Suzzallo and proposed an idea. He suggested that a memorial gate should be constructed in memory of the University's men and women in the Spanish-American War as well as World War I. Suzzallo responded by explaining that creating a memorial based on similar intentions was already under consideration. The idea was for this memorial to recognize those who were currently in war as well as those who had passed, and will pass. But, however, there was an issue due to a "lack of accurate information." Suzzallo stated that there had been a decision to create one memorial after the war commemorating all the past and current University members who have passed. He also said that a separate memorial was to be created commemorating those in the Spanish-American War. This correspondence between the two led to the beginnings of the memorial (UW 1).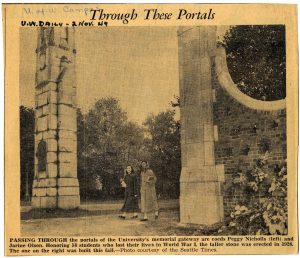 Later, on April 21, 1920, members of the Senior Memorial Committee from the Class of 1920 decided to propose a more direct and specific plan for a Memorial Gate. They chose a location of the memorial, which was an entrance of the campus on Forty-fifth Street and Seventeenth Avenue north-east. Carl F. Gould aided these people in the project by preparing and approving design ideas (Kindig 1).
Fully aware that the construction of such monument is a demanding process, the committee members suggested that each graduating class, beginning with theirs, contribute in some way. Their idea was to have each graduating class add a part to the gate until it is completed. They also had the idea of each graduating class financially contributing to the project as well, so that no individual group assumes too much financial burden.
Under the supervision of Suzzallo, the planning of the memorial then took off. On Armistice Day, 1920, the planting of the initial trees had occurred. This was followed by an exercise, which took place in Meany Hall. However, many later felt that additional work had to be done. On March 26, 1930, various students, including some from the Oval Club developed interest in further advancing the memorial. They intended to add bronze tablets with the names of those commemorated, as well as raising money for the other additional aspects that are yet to be completed. Because of individuals like these and countless others, the memorial was completed and stands today as a wonderful reminder of the selfless service and heroic actions of those from the University of Washington. World War I was a very important time for the University of Washington. The University's students and staff contributed to the War greatly and were extremely active participants during that historic time (UW 1).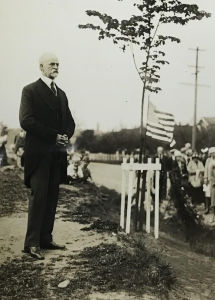 References
91st Division Publication Committee. The Story of the 91st Division. San Francisco, CA: H.S. Crocker,
     1919. Print.
Kindig, Jessie. "Northwest Antiwar History: Chapter 1." Intro: Labor and WWI. Web. 28 Jan. 2017.
Marmor, John. "March 2002 Columns Magazine Feature: A Place Apart – Memorial Way." March 2002
     Columns Magazine Feature: A Place Apart – Memorial Way. Web. 28 Jan. 2017.
UW Health Sciences Library. UW Health Library. Web. 25 Jan 2017.
The Life Behind the Memorial
Learn about each of the 53 service members represented by the trees along Memorial Drive and on the WWI memorials by clicking below.