Who knew robots had hearts? That's what we found out last Friday, Feb. 10, when hundreds of people, including some dressed as our metallic friends/future overlords descended on Red Square to brighten the day of a child.
11-year-old Alex told the Make-a-Wish Foundation he'd like to see robots in action helping humanity and even bringing about world peace, so the UW community leapt into action. Students choreographed a dance routine and spread the word on YouTube. Show up dressed like a robot, they said, and dance. And so this happened: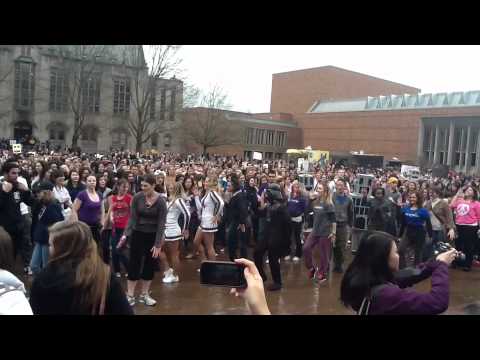 Young Alex, who dreams of making the world a better place through robots, started his day with a tour of the UW BioRobotics lab, where he got a look at the latest advances in human-robot interfaces. His police-escorted limousine then took him to Red Square, where hundreds of sign waving, robot-costumed enthusiasts greeted him with cheers as he wheeled over in front of the Kane Hall steps to watch the show.
The costumes ranged from cardboard-box coture to Star Wars regalia. Robots shaped like buildings, "Partybot," who had a tape deck fused into its chest, blinky-eyed robots and hundreds of robot allies (though they may have been human-shaped androids–who knows?) were all on hand for the occasion. Attendees waved signs reading "Alex Rocks" and "Robots Rule." The dance ended with a hearty "Peace, Alex!" from the crowd, which evolved into "Who's house? Alex' house!"
And just like that, it was over. Alex and his family, gift basket from the UWAA in hand, returned to the limo, which whisked them off, and minutes later it was like nothing had happened at all.
The important thing is that hundreds of people took time to go outside in the drizzle to make a child happy. After the event, Alex's mother posted on the UW's Facebook page, "I wanted to thank everyone for the most amazing event for Alex. We were overwhelmed. Your smiles, energy, time, and love came through and changed us. Thank you, Thank you, Thank you!"