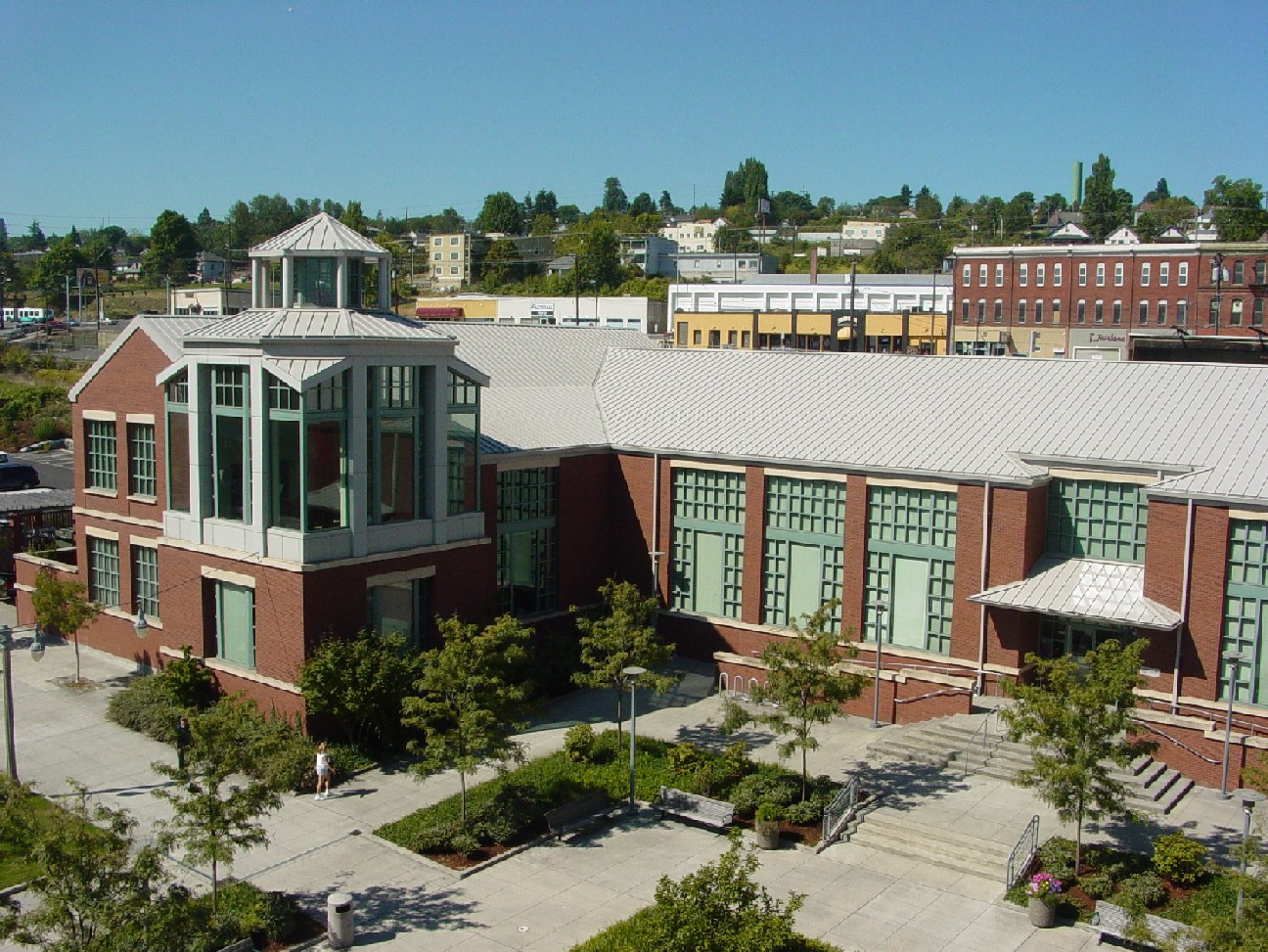 The UW's campus in Tacoma, which serves 3,600 students, dwells right in the heart of the historic downtown. Incorporating former places of business and warehouses (the library was once a municipal power plant) between the Tacoma Dome and the business district, UW Tacoma's campus is an exciting mix of styles, and is covered with fantastic art.
UW Tacoma's website hosts a guide to a walking tour of campus, and if you're in the neighborhood, you should check it out. Maybe even make a special voyage out, now that road trip season is nearly upon us. Here are some sights to see around the UW Tacoma campus:
Ghost signs—All over campus are vintage signs, whose faded lettering recall the days when the UW Tacoma campus was a bustling downtown commercial district. Along the top of the Garretson Woodruff Pratt Building, artists have integrated the old signs into new works of art, with explanatory plaques at the base.
Mattress factory—Another ghost sign, advertising "Slumberite" mattresses, gives the Mattress Factory Building its name. This unique triangular building is home to many of UW Tacoma's administrative offices, the student copy center, and The Ledger, the student newspaper.
Calligraphy samples—Before World War II, the neighborhood around UW Tacoma was home to a vibrant community of Japanese immigrants and Japanese-Americans. The Japanese Language School, located nearby on Tacoma Avenue, had been abandoned for many years and the building badly deteriorated when UW Tacoma acquired the property, and it had to be torn down. Writing samples from the school now decorate the Birmingham Block, to celebrate this piece of Tacoma's unique history.
Museum of Glass—Not part of UW Tacoma, but just across the footbridge from campus, Tacoma's Museum of Glass has teamed up with UW Tacoma to offer glass art classes to students. The museum itself is a wonder, featuring works from Dale Chihuly and other top glass artists from around the world.
So, if you find yourself in Tacoma, why not take in some great art, grab a bite to eat, and enjoy this jewel in the heart of the City of Destiny?