Back to Faculty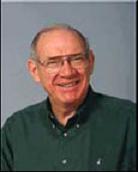 Milton Gordon
Emeritus Professor of Biochemistry
1930-2005
PhD 1953, University of Illinois, Urbana-Champaign
BS 1950, University of Minnesota, Minneapolis
In July of 2005, Professor Milton Gordon passed away. His colleagues here at the UW remember him as a scientist of international reputation and an extraordinarily kind and gentle man. His wife, Sunnie Gordon, has compiled an illustrated biography. The Seattle Post-Intelligencer has published a tribute (below).
In 2004, the Department of Biochemsitry began an annual seminar series in Dr. Gordon's honor.
Research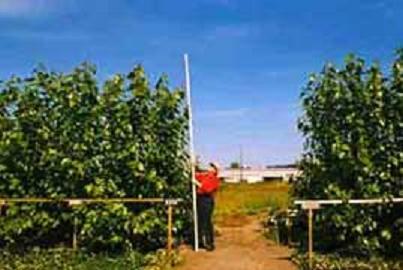 Milt Gordon measuring the height of transgenic poplar trees in a bioremediation test plot.
Dr. Gordon investigated the interaction of plants with bacteria. The soil bacterium, Agrobacterium tumefaciens, inserts a sequence of plasmid DNA into the plant genome. Insertion of bacterial DNA transforms the plant tissue and has been used to genetically engineer the insertion of other foreign genes into plants. Dr. Gordon focused on the nature of the process whereby bacterial plasmid DNA is incorporated into the plant genome, and the molecular mechanisms that turn these bacterial sequences on and off in the transformed plant. Dr. Gordon also collaborated with Dr. Eugene Nester (Microbiology) and Dr. Maynard Olson (Genome Sciences) to determine the complete DNA sequences of a number of strains of Agrobacteria.
Dr. Gordon undertook a series of collaborative studies with the College of Forestry and the Department of Microbiology designed to enable plants to remediate various xenobiotics in the environment. Dr. Gordon was particularly interested in oxidative enzymes such as various cytochrome P450′s which are known to degrade a variety of chlorinated solvents. These experiments were part of a program to design plants with the enzymatic machinery required to inactivate specific toxic compounds in the environment. The above photograph shows Dr. Gordon measuring the height of fast-growing transgenic poplar trees containing a rabbit P450 gene.
Selected Publications
Remediation of Trichloroethylene in an Artificial Aquifer with Trees: A Controlled Field Study. Newman, L.A., Cortellucci, R.S., Crampton, D., Domroes, J., Duffy, G., Ekuan, G., Gordon, M.P., Hashmonay, R.A., Heilman, P., Karscig, G., Muiznieks, I.A., Newman, T., Ruszaj, M., Wang, X., Yost, M.G., and Strand, S.E. 1999. Environ. Sci. Technol. 33 (13) 2257.
Phytoremediation of methyl-t-butyl ether at Port Hueneme. Newman, L.A., Gordon, M.P., Heilman, D.L., Cannon, D.L., Lory, E., Miller, K., Osgood, J and Strand, S.E. 1999. Soil and Groundwater Cleanup, Feb/Mar 42-45.
Phytoremediation of trichloroethylene with hybrid poplars. Gordon, M.P., Choe, N., Duffy, J., Ekuan, G., Heilman, P., Muiznieks, I., Ruszaj, M., Shurtleff, B.B., Strand, S., Wilmoth, J., and Newman, L.A. 1998. Environ. Health Perspect. 106 1001.
Uptake and biotransformation of trichloroethylene by hybrid poplars. Newman, L.A., Strand, S.E., Choe, N., Duffy, J., Ekuan, G., Ruszaj, M., Shurlteff, B.B., Wilmoth, J., Heilman, P., and Gordon, M.P. 1997. Environ. Sci. Technol. 31 1062.
Phytoremediation of Trichloroethylene with Hybrid Poplars. Gordon, M.P., Choe, N., Duffy, J., Ekuan, G., Heilman, P.E., Muiznieks, I., Newman, L.A., Ruszaj, M., Shurtleff, B.B., Strand, S.E., Wilmoth, J. 1996. ACS Symposium Series 664: Phytoremediation of Soil and Water Contaminants, Orlando, FL.
High Frequency transformation of cottonwood (genus _Populus_) by _Agrobacterium_ rhizogenes. Han, H.K., Gordon, M.P., Strauss, S. 1996. Canadian Journal of Forest Research 27 464.
Evidence for Horizontal DNA Transfer from _Rhizobium_ to _Agrobacterium_. Deng, W., Gordon, M.P., Nester, E.W. 1995. Sequence and distribution of IS1312: J. Bact. 177(9), 2554.
Invited Chapters
Phytoremediation of trichloroethylene and carbon tetrachloride: Results from Bench to Field. Newman, L.A., Bod, C., Chose, N., Crampton, R., Cortellucci, D., Domroes, D., Doty, S., Duffy, J., Ekuan, G., Fogel, D., Hashmonay, R., Heilman, P., Martin, D., Muiznieks, I.A., Newman, T., Ruszaj, M., Shang, T., Shurtleff, B., Stanley, S., Strand, S.E., Wang, X., Wilmoth, J., Yost, M. and Gordon, M.P. 1997. Proceedings of the 12th Annual Conference on Hazardous Waste Research.
Milton P. Gordon: UW professor was a pioneer in plant genetics
The Seattle Post-Intelligencer
Monday, August 22, 2005
By Sam Skolnik
Seattle Post-Intelligencer Reporter
Milton P. Gordon, a University of Washington professor who pioneered genetic engineering of plants and documented how trees can cleanse the environment, has died.
Gordon died last month after suffering from a degenerative neurological disease known as Shy-Drager syndrome. He was 75.
"I hope I leave this world a better place," Gordon told his wife, Elaine "Sunnie" Gordon of Seattle, for a mini-biography she compiled. "Genetic engineering is the basis for a new agricultural revolution. It's a partial answer to world hunger."
Gordon started his career as a biochemistry professor at the UW in 1959. He retired as professor emeritus in 2003.
In addition to being a pioneer in the field of phyto-remediation, the ability of plants and trees to draw up and destroy ground-based contaminants, Gordon was best known for his work in genetic engineering.
Gordon and a UW colleague were able to prove that a simple bacterium could transform plant cells by introducing a growth hormone gene. Other scientists have used Gordon's technique to make plants more nutritious and insect resistant.
Alan Weiner, chairman of the UW department of biochemistry, said Gordon was an important scientist who earned the respect of his peers around the globe. One of his discoveries was featured on the cover of Science magazine.
"Milt was someone who made us feel good about being in science," Weiner said. "He was extremely curious, and he was always kind."
Gordon was elected to the American Academy of Microbiology in 2000 for his "green solution to pollution." He also served for more than three decades as an associate editor of the journal Biochemistry.
The son of Eastern European immigrants, Gordon was born in 1930 and raised in St. Paul, Minn. Gordon quickly showed an aptitude for science – chemistry in particular.
Gordon attended the University of Minnesota, graduating summa cum laude with degrees in chemistry and mathematics. He went on to the University of Illinois, where he received his Ph.D. in biochemistry at 23.
Gordon and Sunnie met at the university, where she was an undergraduate student. Sunnie said that most of their dates entailed Gordon working in his lab, with her studying nearby.
"He looked like my image of a future husband: educated, tall, slim and not demanding," she said. "He would allow me to pursue my future goals."
Relatives and former colleagues described Gordon, who died in his Green Lake home on July 5, as optimistic and mild-mannered, with a keen sense of humor.
Tony Bradshaw, a former post-doctoral student and research assistant of Gordon's, told Sunnie Gordon that "I never heard him raise his voice and never heard an unkind word cross his lips."
In addition to Sunnie, Gordon is survived by his children, David Gordon of Seattle; Karen Slapik of Austin, Texas; and Peter Gordon of Cambridge, Mass.; sister Gladys Strait of Morristown, N.J.; sister-in-law Molly Gordon of Niagara Falls, N.Y.; and three grandchildren.