NEURATH LECTURE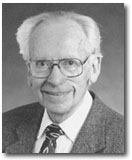 Hans Neurath
1909 – 2002
Founding Chair
Department of Biochemistry
The founding chair of the Department of Biochemistry, Professor Hans Neurath, passed away on Friday, April 12, 2002. Hans was a man of passion for proteins and for biochemistry, for mountains and for music, and for his dear wife Susi and his children. The department joins his family, countless friends, colleagues, and students in mourning the death of a great man who set the stage for our new world of proteomics, and the application of biomedical research to every aspect of human health and disease.
Neurath founded and chaired the department from 1950 until his formal retirement in 1975, but he remained scientifically active and continued to take a keen interest in the welfare of department for many years thereafter. Indeed, until February 2002, Neurath came to work every day, attended faculty meetings, and (as always!) expressed clear and forceful opinions on almost every subject.
In addition to his many scientific achievements in the field of protein chemistry, Neurath founded two major scientific journals: Biochemistry, a publication of the American Chemical Society, which he edited from 1961 to 1991; and Protein Science, a publication of the Protein Society, which he edited from 1991 to 1998. What better illustration of Neurath's vision and energy than his decision, at age 81, to found and edit a new high profile journal at the cutting edge of contemporary research? He was not a man to rest on his many laurels.
Hans Neurath Lecturers
In 1983, ZymoGenetics and the Department of Biochemistry established the annual Hans Neurath Lectureship which has brought luminaries to the School of Medicine for two decades. ZymoGenetics, a Seattle biopharmaceutical firm, was founded in 1981 by two University of Washington faculty – Earl Davie, Professor of Biochemistry, who was himself a postdoctoral fellow with Neurath, and Benjamin Hall, Professor of Genetics – together with the late Michael Smith, Professor of Biochemistry at the University of British Columbia and a 1993 Nobel Laureate in Chemistry for site-directed DNA mutagenesis.
1983 Arthur Kornberg
1984 Manfred Eigen
1985 Peter Reichard
1986 Gerald Edelman
1987 Paul Berg
1988 David Baltimore
1989 Bengt Samuelsson
1990 Michael S. Brown
1991 Harold Varmus
1992 Daniel Nathans
1993 H. Gobind Khorana
1994 Aaron Klug
1995 Edmond Fischer
1996 Johann Deisenhofer
1998 James Spudich
1999 David Eisenberg
2000 J. Michael Bishop
2001 Gunter Blobel
2003 Robert Huber
2004 Linda Buck
2005 Robert Roeder
2006 Nancy Hopkins
2007 Stephen Harrison
2008 Avram Hershko
2009 Christopher Dobson
2012 Randy Schekman
2013 Lewis C. Cantley
2014 Joan A. Steitz
2015 Susan Lindquist
2016 Thomas C. Sudhof
2017 Jennifer Doudna
2018 Eva Nogales
2020 Rachel Green
Contributions to the Neurath Lectureship Fund can be made
securely online
or by check made out to:
Department of Biochemistry
c/o Medical Affairs Development
University of Washington
Box 358220
Seattle, WA 98195-8220