About
The Translational Research Subcore (TRS) supports clinical and socio-behavioral researchers with a multitude of study-beneficial services:
The HIV Specimen Repository contains plasma and peripheral blood mononuclear cell (PBMC) specimens linked to extensive clinical data

The Enhanced Data and Specimen Collection Service supports the prospective collection of clinical samples

The HIV Negative Registry is a registry of HIV-negative individuals who are interested in participating in HIV-related research and serving as controls when indicated. 

HIV Research Study Participant Screening and Patient Referral supports the screening and recruitment of people living with HIV (PLWH) and HIV-negative individuals into clinical, laboratory, and socio-behavioral research studies

Through Consultations we support study implementation including the provision of clinical space, phlebotomy etc.
Please click below to watch a short video detailing our services.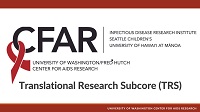 Both basic and clinical scientists at CFAR benefit from the services and consultations of the subcore. Our dedicated research nurse at Harborview HIV clinic expedites the screening and enrollment of appropriate patients into new translational studies.
With our HIV Specimen Repository—which contains frozen plasma, serum, and PBMC specimens linked to extensive clinical data, we offer immediate access to large numbers of well characterized samples for translational studies. Contributions to this repository comprise a rich longitudinal collection of samples that reflect serial specimen donations (1-3X/year) with linkage to health data from electronic medical records, including clinical, virologic, immunologic, and demographic factors.
Through our Enhanced Data and Specimen Collection Service, we provide an infrastructure for lab-based investigators to obtain clinical specimens including rectal or GI biopsies.
Subcore faculty can assist with design, methods, quality assurance, and data interpretation in clinical studies of AIDS/HIV. They can partner with CFAR researchers to develop novel laboratory methods for determining viral loads in various compartments and correlating these HIV markers with clinical outcomes.
Activities
TRS helps accelerate the funding and progress of many important studies, especially smaller pilot studies or those championed by new investigators who have limited budgets or require mentoring with clinical, laboratory, or regulatory aspects of their research.
For a list of our current and upcoming projects, please click here. 
People
Program Manager
Fields requests for specimen collection and recruitment, troubleshoots research issues, and manages the TRS budget.
Refers, recruits, enrolls, screens, and helps assist with protocols and SOPS for a variety of studies.
Jia Wong
Research Coordinator
Coordinates HIV-positive repository and HIV-negative registry projects, and enroll study-eligible patients.
Contact
325 9th Ave
UW Box 359929
Seattle, WA 98104
(206) 744.4630