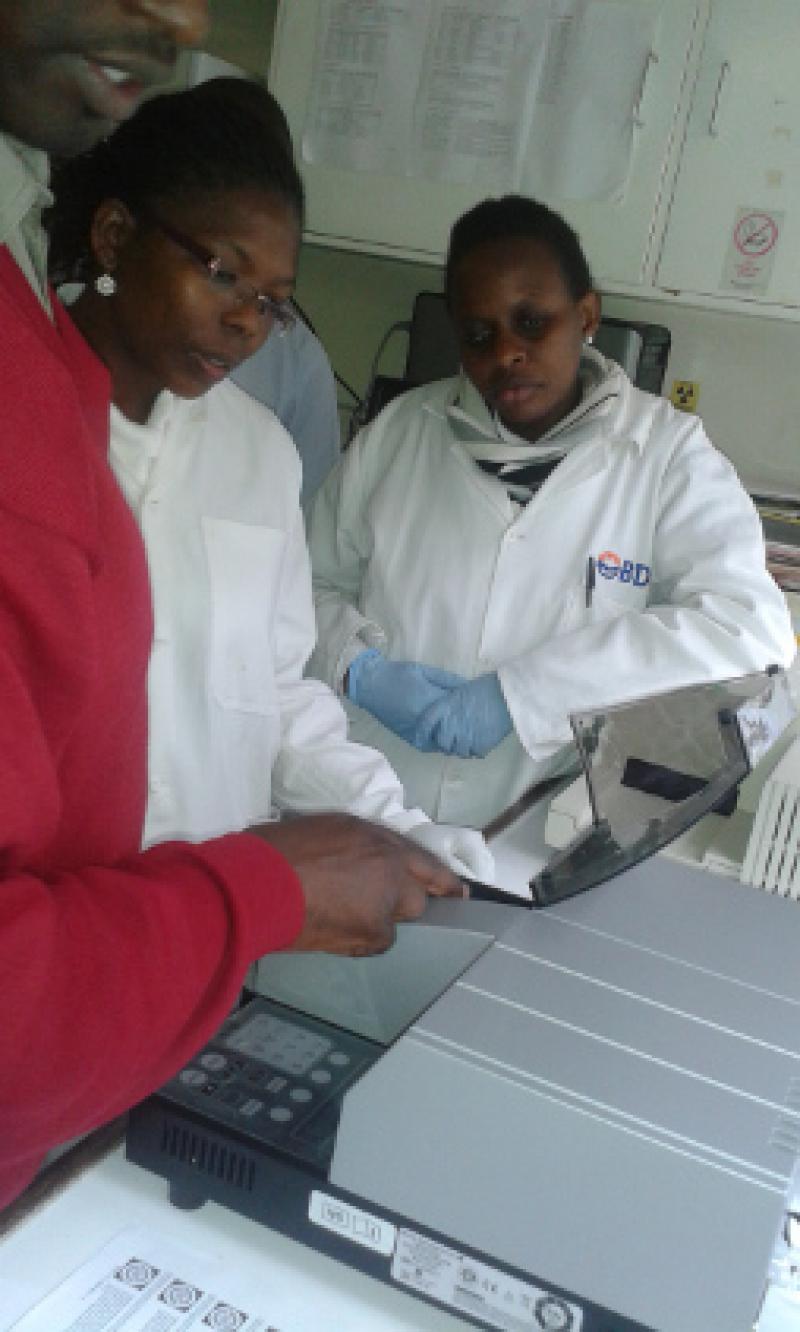 Staff at the Paediatric Research Laboratory at the University of Nairobi learning to program a new Automated ELISA microplate washer.
About
The UW/Fred Hutch CFAR International Core facilitates HIV research by University of Washington faculty at international sites by providing logistical, operational and infrastructure support as well as small pilot grants.
Core faculty and staff participate directly in collaborative international studies and also provide training, technical and procurement assistance, laboratory support, and grant services to other researchers.  As it coordinates projects and supports investigators, the Core focuses on establishing long-term international partnerships, building research infrastructure and capacity, supporting junior faculty development, and promoting the design, funding, and implementation of innovative HIV research on women and children.  The Center for AIDS Research, part of the wider UW Center for AIDS and STD, is a WHO/PAHO Collaborating Center for AIDS and STD.
 
Activities
In addition to  Core Services, International Core faculty and staff rely on their experiences in international research to develop training and support actiivites for HIV researchers. Projects are primarily in Kenya and Peru, with additional work being done in Mozambique, Senegal, China, India and Uganda.
Financial Awards
Infrastructure Awards benefit several investigators at a single site and provide opportunities for new research through enhancement of clinical, laboratory, and administrative capacity.  Information about previous Infrastructure Awards may be found here.
Pilot Awards are awarded every year for development and implementation of innovative HIV/AIDS-related research projects in developing countries. Studies are prioritized by potential for obtaining pilot data for development of NIH grant proposals. In 2014, the International Core introducted two new Pilot Award types-- the Global to Local Pilot Award and the Mentored International Investigator Award.  Information about previous Pilot Awards may be found here.
On-site Customized Training Workshops and Courses
Highly focused workshops and group training sessions are open to all CFAR researchers and other investigators involved with international clinical trials.  Previous workshops have included  a data management workshop in Nairobi, Kenya and a mentoring workshop in Lima, Peru.
Collaborations for HIV Research in Women
The UW CFAR International Core is a founding member of the Inter-CFAR Collaboration on HIV Research in Women, a network of CFAR investigators dedicated to promoting cutting-edge science in HIV research and women, developing new strategies for future research to address HIV-related issues unique to women, and promoting career development and professional growth among junior investigators interested in this field.  The working group has identified the following areas of interest:
• Networking among investigators with similar research interests
• Developing collaborative grant proposals
• Merging existing research cohorts for increased sample size/power
• Mentoring and reviewing grant proposals in development
• Meeting annually at research symposia
• External review for CFAR Developmental Awards related to women and HIV
Working in Implementation Science (WISE) Peer Mentoring Group
The Working in Implementation Science (WISE) Peer Mentoring Group meets twice a month to discuss research in progress such as grant proposal development, ongoing projects, presentations and manuscript preparation.  There is typically a 10-15 minute introduction to the research, presented by one of the group members, followed by a discussion aimed at addressing challenges and optimizing the work.  Anyone with an interest in health/healthcare related implementation research is welcome.
Questions can be addressed to Scott McClelland mcclell@uw.edu.  Meeting times are adjusted quarterly to fit the academic schedules of current active members.  To be added to the mailing list, contact Kate Pfizenmaier at kpfiz1@uw.edu. 
People
Grace John-Stewart
Director
Scott McClelland
Associate Director
Joseph Zunt
Associate Director
 
Julia Dettinger
Core Manager

Linh Nguyen
Program Operations Specialist

 
Vrasha Chohan
Laboratory Scientist
Contact
Julia Dettinger, MPH International Core Manager jcdettin at uw.edu (206) 221-1041 phone (206) 744-3693 fax