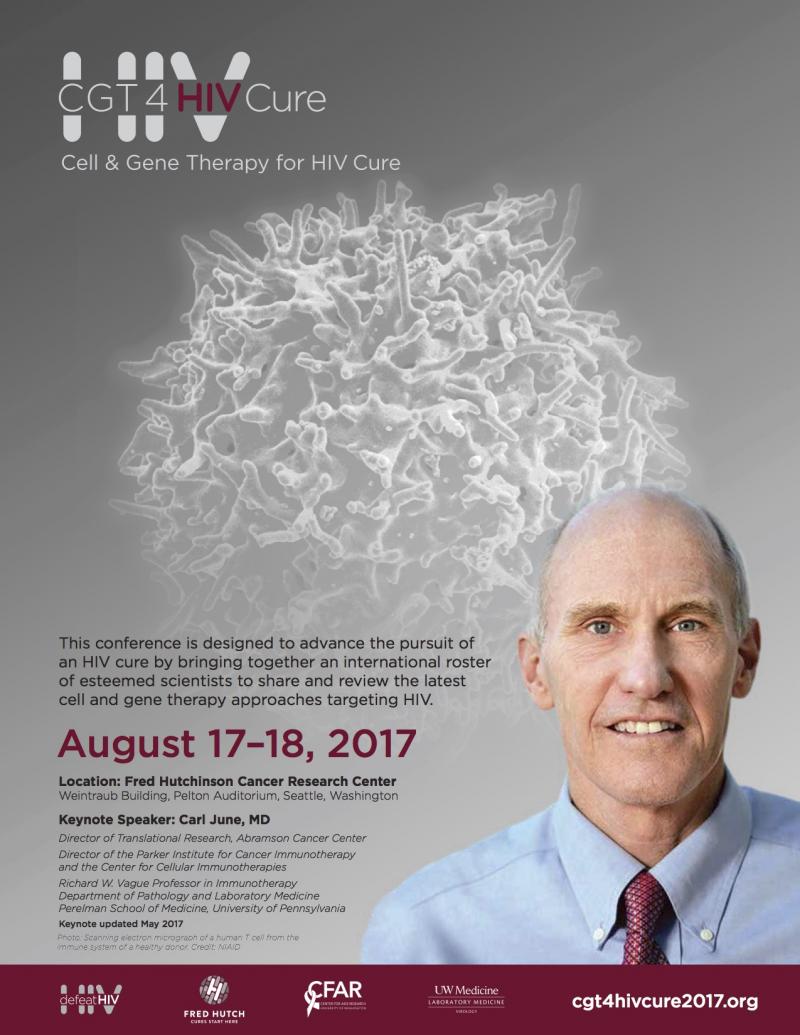 The Cure SWG is pleased to co-host the 4th annual Conference on Cell & Gene Therapy for HIV Cure, August 17-18, 2017 at the Fred Hutchinson Cancer Research Center in Seattle, WA. Keynote Speaker - Dr. Carl June. Visit the conference website for more details: http://cgt4hivcure2017.org.
About
The primary purpose of the Curative Therapies for HIV (Cure) Scientific Working Group is to accelerate work toward a cure for HIV, by linking local investigators of curative therapies for HIV to the comprehensive UW/Fred Hutch CFAR.  Additionally, we strive to connect Seattle investigators with international leaders in the field, in order to develop critical local expertise and enhance areas of local strength.  These collective activities will help establish an international center of excellence in the study of curative therapies for HIV at the CFAR. 
The Cure Scientific Working Group leverages a large NIH investment in the Seattle-led consortium defeatHIV, one of six Martin Delaney Collaboratories focused on the cure of HIV.  The Cure Scientific Working Group will synergize with CFAR, to utilize expertise in the clinical, basic science, and developmental cores, to develop novel research questions for the study of curative therapies for HIV.
Activities
The Cure Scientific Working Group will:
Establish semi-annual Symposia, research roundtables and seminars in curative therapies for HIV
Facilitate core use for Scientific Working Group investigators
Develop new intra-/inter-CFAR projects and funding applications on curative therapies for HIV
People
Cure SWG Executive Committee
Keith R. Jerome, MD, PhD; Scientific Working Group Director; Member, Fred Hutchinson Cancer Research Center; Professor of Laboratory Medicine and Head of Virology Division, University of Washington
Michael Emerman, PhD; Member, Fred Hutchinson Cancer Research Center
Christine Johnston, MD, MPH; Assistant Professor of Medicine, University of Washington
Dara Lehman, MHS, PhD; Senior Staff Scientist, Fred Hutchinson Cancer Research Center
Daniel Stone, PhD; Senior Staff Scientist, Fred Hutchinson Cancer Research Center
Contact
Tom Andrus, Cure SWG Manager
tandrus at fredhutch.org, 206-667-6143
Keith Jerome, MD, PhD, Cure SWG Director
kjerome at fredhutch.org, (206) 667-6973