---
EXTENDED International Eligibility Check Deadline: March 5, 2021
EXTENDED Letter of Intent Email Deadline: March 5, 2021
EXTENDED Request for Consultations Deadline: March 5, 2021
Application Deadline: March 30, 2021
---
2021 NIA REQUEST FOR APPLICATIONS (RFA) - 3.1.21 UPDATE (Download: MS Word or PDF)
---
---
I. OVERVIEW
Purpose
The purpose of the UW/Fred Hutch Center for AIDS Research (CFAR) New Investigator Awards (NIAs) is to encourage junior investigators (at a senior stage of training or recently independent) to conduct independent research, acquire preliminary data to use for exogenous grant submissions, publish, receive mentorship, and write one or more grants to obtain funding to continue their HIV research careers.  The application process is designed to help you formulate a research proposal consistent with National Institute of Health (NIH) requirements for your future grant applications and includes opportunities to consult with experts to strengthen the study design and public health reach of your work. We are available to answer your questions throughout the process.
Applicant Eligibility
Applicants must:
1. Have an MD or PhD or equivalent terminal degree (including an MBChB plus a Master's Degree).
2. Have not had a NIH R01 or equivalent grant in HIV.
3. Have an appropriate appointment, as follows:​​​
    a. ​​Junior faculty (including acting positions), OR ​​​​​​
    b. a scientist completing a fellowship, OR
    c. a senior post-doctoral fellow initiating a new area of HIV-related research that will form a basis for their independent program, OR
    d. faculty-equivalent investigator at an international community-based organization whose primary mission is research.  
4. If from non-U.S. institutions, then also have a primary mentor at a U.S.-based CFAR affiliate (University of Washington, Fred Hutch, Seattle Children's, Infectious Disease Research Institute, University of Hawai'i at Mānoa).
5. Be a UW/Fred Hutch CFAR member, or have applied for membership at the time of proposal submission.
UW/Fred Hutch CFAR values diversity and encourages individuals from underrepresented groups to apply.
Applicants are limited to submitting only one application to this program per cycle.  We do not allow Co-PIs to apply; only single PIs are eligible to apply. 
We accept applicant resubmissions of prior-year NIA proposals that have been revised to address previous NIA reviewer critiques. 
NIH K awards do not impact program eligibility as long as the requested funds support different items; the research can be on the same topic.
Successful applicants usually have some preliminary data to support their application.
Contact cfardev@uw.edu if you have questions about eligibility.
.
 
Types of Projects
HIV-related research is defined broadly and includes basic science, clinical, epidemiological, behavioral, and implementation science research.
We can only accept applications in the NIH's HIV research high or medium priority areas.  
Please refer to the following CFAR Clinical Clearance guidelines.
1. Studies that cannot be funded through the CFAR
    a. Any clinical trial (NIH definition of a Clinical Trial (NOT-OD-15-015)
    b. Studies involving new drugs, treatments, or devices
2. Studies that can be funded via CFAR but require additional NIH review if selected for an Award.
    a. Studies involving new ways of using known drugs, treatments, or devices (allowed on a case-by-case basis)
    b. Studies that are deemed above minimal risk by the Institutional IRB
    c. Studies involving vulnerable populations (children, pregnant women, transgender, sex workers, prisoners, refugees, individuals who are unable to provide informed consent, etc.)
    d. Studies involving behavioral interventions (above minimal risk) 
If you are considering a study involving approved drugs and/or standard-of-care, please contact Ruanne Barnabas, Developmental Core Director, (rbarnaba@uw.edu, cc: cfardev@uw.edu) to determine whether your proposed project would be eligible for funding through CFAR. No human subject work may be initiated until clinical approval is received.
3. Studies that do not require additional NIH review: 
Research activities that do not include vulnerable populations (see Category II above) and present no more than minimal risk to human subjects as described in the OHRP Expedited Review Categories. Examples include but are not limited to the following:
    a. Routine blood draws
    b. Non-invasive procedures routinely employed in clinical practice (e.g. ultrasound, MRI)
    c. Surveys, focus groups
Mentoring
It is strongly recommended that applicants identify a mentor while preparing their application. If needed, please contact Ruanne Barnabas, Developmental Core Director, (rbarnaba@uw.edu, cc: cfardev@uw.edu) to provide suggestions for possible mentors.  An applicant may have co-mentors, but a statement from the applicant's primary mentor that they have read and discussed the application with the applicant must accompany the application and can be included in the letter of support from the mentor. Please note that successful applicants will form a Mentoring Committee to provide guidance for their career development and to assess progress of each NIA awardee at least annually.
Funding Available
Awards will be up to $45,000/year (direct costs) for non-interdisciplinary projects or up to $55,000/year (direct costs) for interdisciplinary projects. To qualify for interdisciplinary level funding, successful applicants must demonstrate that the project work itself is interdisciplinary.  Applicants may apply for up to 2 years of funding.
Please note that for those requesting a two-year project, second year funding is contingent upon demonstration of satisfactory progress during year one.
Budget Development Guidelines and Restrictions
Applicants based at the University of Washington should not include indirect costs in their project budget, unless there is a foreign or domestic subcontract with an institution that does not have a UW indirect cost waiver.  In this instance, the project budget should include applicable Facilities & Administrative costs for the relevant subcontract(s).  See additional details below.

Projects with an international subcontract must include the 8% indirect cost rate as part of their direct cost total of $45,000/year or $55,000/year. A detailed and complete budget and budget justification must be provided for foreign subcontracts.

Please note that the CFAR does not have funds to cover additional institutional indirect costs for applicants who are not based at the University of Washington, but has negotiated indirect cost waivers from Fred Hutch, Seattle Children's, and University of Hawai'i.

Requested support for project collaborators who are NOT at the same institution as the awardee should be listed as consultant costs. If the collaborator cannot accept consultancy fees, a subcontract must be issued to their institution. These costs must be listed in the detailed budget as consortium costs with applicable indirect costs included, which will count towards the direct costs limit. Please note that the CFAR has negotiated indirect cost waivers with several local partner institutions (See guideline 3 above).

Requested support for equipment and technology, including computers, must be fully justified in the budget justification with a clear connection to the scientific aspects of the project and not for general office use. Be sure to read our

Computer Policy

if you would like to budget for a computer. General office supplies are not allowed.

Tuition, fees and stipends for graduate students are allowable within the following guideline:  Total compensation (salary, fringe, and tuition/fees) cannot exceed $52,704. (

NOT-OD-20-070

)

Costs associated with

I

nstitutional

R

eview

B

oard

(

IRB

)

review of human research protocols, or

Institutional Animal Care and Use Committee

(

IACUC

)

review of animal research protocols, are not allowable as direct charges.

All costs must conform to the NIH Grants Policy Statement (GPS) and applicable U.S. Office of Management and Budget OMB circulars for necessity and reasonability, allocability, conformance and consistency, as well as allowability. Please follow the link below to section 7.2 cost principles section of the

NIH Grants Policy Statement

for more information

.
UW-based applicants do not need to submit an eGC-1 and institutional signature on their NIA application. 
Non-UW applicants are required to submit a PHS 398 Form - page 1 with institutional signature as part of their NIA application.
Other Information
 
Interdisciplinary Proposals: Multidisciplinary projects are encouraged and are defined as projects where the research work itself is interdisciplinary. The applicant must provide a rationale during the online submission process as to why the applicant considers the project to be interdisciplinary.
Human Participants and Animal Subjects IRB Approvals: A copy of all Institutional Biohazard, Human Participants, Animal Subjects and Institutional Review Board (IRB) approvals (if applicable) are not required before submitting an NIA application, but they must be forwarded to Linh Newcomb, CFAR Grant and Finance Manager (ltn128@uw.edu), prior to receipt of award funding.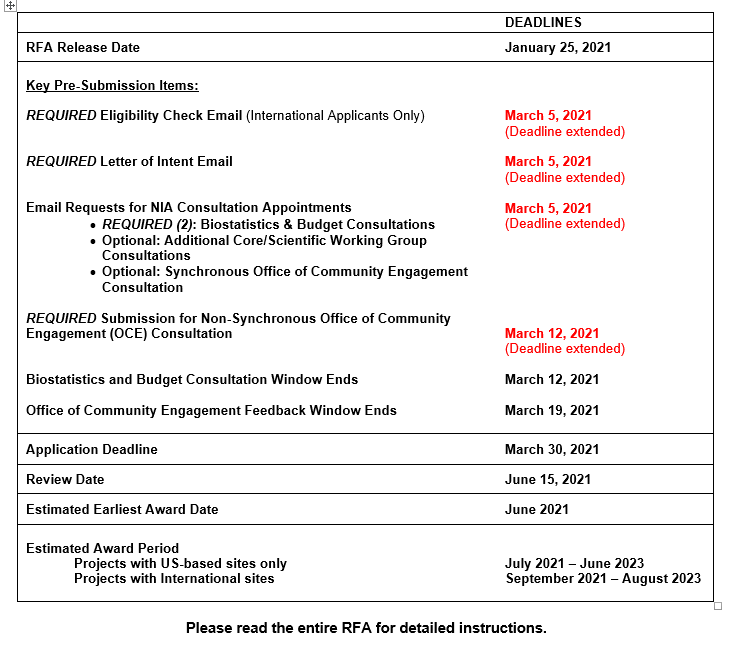 IV. POST-AWARD REQUIREMENTS (IF FUNDED)
V. REVIEW CRITERIA
VI. APPLICATION INSTRUCTIONS
VII. OPTIONAL CORE/SWG CONSULTATION INFORMATION
---
SUPPLEMENTAL APPLICANT RESOURCES
 
Project Eligibility
Community Engagement
Visit the Office of Community Engagement Resources page for more recommended links.
---
2021 NIA REQUEST FOR APPLICATIONS (RFA) - 3.1.21 UPDATE (Download: MS Word or PDF)
---