The UW/Fred Hutch Center for AIDS Research and the UW STD & AIDS Research Training Program are delighted to invite you to attend the upcoming 15th Annual STD & AIDS Research Symposium on Tuesday, October 30th, 2018 at the Harborview Research and Training Building.
The purpose of the symposium is to increase communication and collaboration among UW and other local HIV/AIDS and STD investigators.  It provides an opportunity for trainees and junior investigators affiliated with, or receiving support from, one of these programs to present their research results.
Tuesday, October 30, 2018
9:00am - 5:00pm
Harborview Research & Training Building
Auditorium, Lobby, and Rooms 109/113
Keynote Speaker
The Keynote Speaker for this year's 15th Annual Symposium is Dr. Sharon L. Hillier, Ph.D., a microbiologist whose research has focused on understanding both the preventive and causative roles that certain microorganisms in the vagina have with respect to genital tract infections, sexually transmitted infections (STIs), including HIV; and on the evaluation of topical microbicides for prevention of STIs. At the University of Pittsburgh, Dr. Hillier is the Richard Sweet Professor of Reproductive Infectious Disease and vice chair for faculty affairs in the department of obstetrics, gynecology and reproductive sciences. Dr. Hillier has been recognized twice by the American Sexually Transmitted Diseases Association (ASTDA) as the recipient of the ASTDA Achievement Award in 1996 and the Thomas Parran Award in 2009.
Junior Investigator Poster Session
We are soliciting posters for presentation of local STD and HIV-related research at the 2018 STD & AIDS Symposium. We are particularly interested in work from junior investigators. We encourage the submission of posters which have already been presented at other conferences, posters which are pending acceptance at other conferences, and posters that are prepared directly for this event. Posters will be displayed all day on October 30, 2018 in the Research & Training Building rooms 109/113. A dedicated poster session time frame is to be determined, but we would like for at least one author must be available to present.
Please submit your poster here by Monday, October 22 at 5:00pm.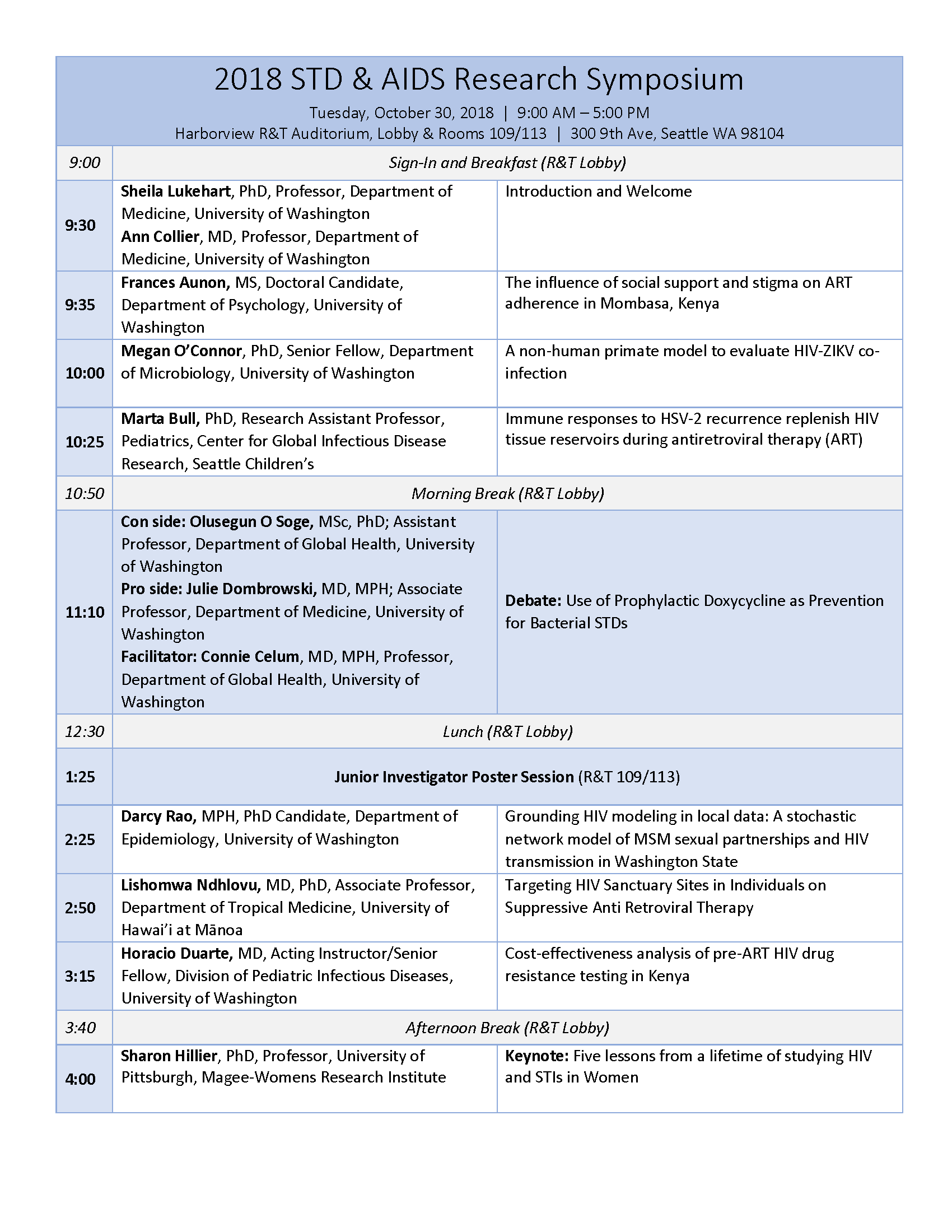 Add to Outlook Calendar  /  Add to Google Calendar
Please forward to anyone who might be interested in attending. Please email cfardev@uw.edu with any questions.