Speaker: Andrés Finzi, PhD
Associate Professor, Department of Microbiology, Infectiology and Immunology
Université de Montréal

Title: Exposing Env: implications for antibody attack

Location: **Arnold Building M1-A305/307**, Fred Hutchinson Cancer Research Center
**Note the location change from Pelton Auditorium**

Andrés Finzi, PhD is an Associate Professor of Microbiology, Infectiology, and Immunology at the Université de Montréal. Dr. Finzi is a Canada Research Chair on Retroviral Entry and did his postdoctoral training at the Dana-Farber Cancer Institute in the laboratory of Dr. Joseph Sodroski. He was recruited by Université de Montréal and the CRCHUM Institute to expand his research program on HIV-1 Env conformational changes and to develop new strategies to eliminate HIV-1- infected cells.

 
CFAR Seminar Flyer - March 2018.pdf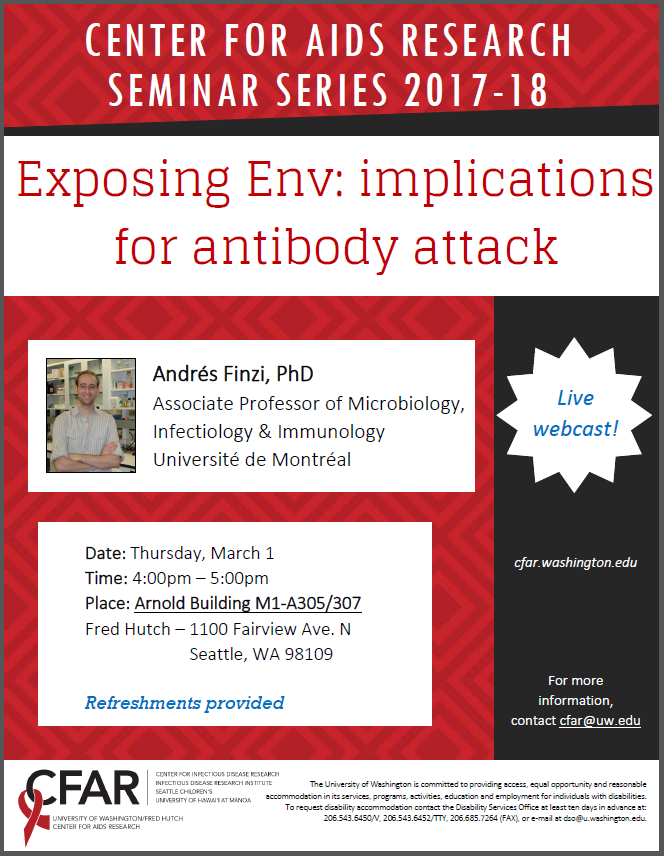 Add this event to your calendar!    Outlook/iCalendar - Google Calendar
For more information, please email cfar@uw.edu.