Title: "What's PrEP?: Examining Demographic and Socioeconomic Barriers to PrEP Uptake in Black and Latino MSM in the Seattle Area"
Location: Harborview Ninth and Jefferson Building, Room 1309
Please join the CFAR Implementation Science Core and Public Health - Seattle/King County HIV/STD Program for another Lunchbox Talk.
Speaker: Jade Pagkas-Bather, MD, Infectious Diseases Fellow, Department of Medicine, University of Washington
Description: Black and Latino MSM are among some of the lowest users of PrEP in our country, yet represent a growing population of HIV infected individuals. The What's PrEP? and Que es PrEP? study examines demographic and socioeconomic barriers to PrEP uptake in Black and Latino MSM in the Seattle area, with a focus on receptivity to peer navigators.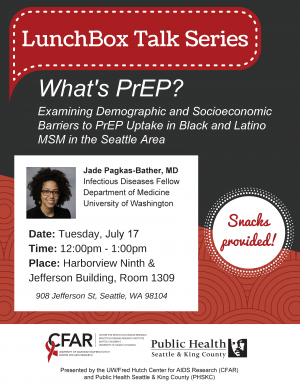 You may find the link to this lecture's recording, and previous lecture's recordings on the CFAR website here.