Highly focused workshops and group training sessions are open to all CFAR researchers and other investigators involved with international clinical trials. Previous workshops have included data management workshops, qualitative methods, health economics methods and mentoring workshop. To request additional workshops or suggest new topics, please email cfarintl at uw.edu.
Fogarty-CFAR HEIST Course -- Kisumu, Kenya
In collaboration with the Fogarty International Center, the CFAR Health Economics Impact Study Team (HEIST) held its 2nd health economic workshop in Kisumu, Kenya, on June 19th, 2014. The full day workshop entitled "Cost-effectiveness methods for HIV research" covered topics including types of cost-effectiveness analyses, methods for collecting cost data, mathematical modelling approaches, and hands-on examples of calculating health and economic outcomes.  The 35 attendees ranged from PhD students to hospital administrators and in-country study staff from UW's Kenya Research Program. Presentations were led by Dr. Ruanne Barnabas, assistant professor of Global Health, Monisha Sharma, PhD student in epidemiology, and Dr. Peter Cherutich, Head of HIV Prevention at the Kenya Ministry of Health and PhD student in epidemiology. We had lively discussions, good ideas for projects and learnt about the challenges and benefits of incorporating costing and health economic analyses into HIV treatment and prevention services.
Data Management Course – Nairobi, Kenya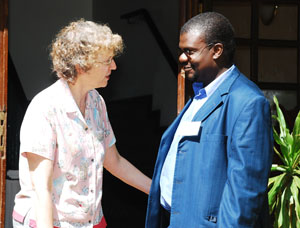 Dr. Marie Reilly joined the International Core, in collaboration with the EDCTP Pediatric Vaccine Trials, for a data management workshop in Nairobi, Kenya in 2010. Twenty-five participants from 13 different research studies at the University of Washington, University of Nairobi, KEMRI, Coptic Mission and KAVI attended. Topics included preparation of SOPs for data management, an overview of design considerations for CRFs including OpenClinica software and Teleform systems, the importance of data dictionaries in ensuring data quality, pre-coding of variables or questions that may have different interpretations, file and variable standards to enhance data sharing and reduce errors, illustration of a data mapping tool for clinical trials, a comparison of database programs, quality control in longitudinal data, auto-extraction of laboratory data, secure data transfer, and a plan for sharing best practices and experiences among the group.
Mentoring Workshop – Lima, Peru
Drs. Joseph Zunt and Carey Farquhar convened a one day workshop in Lima, Peru in 2010 entitled, "Clinical Research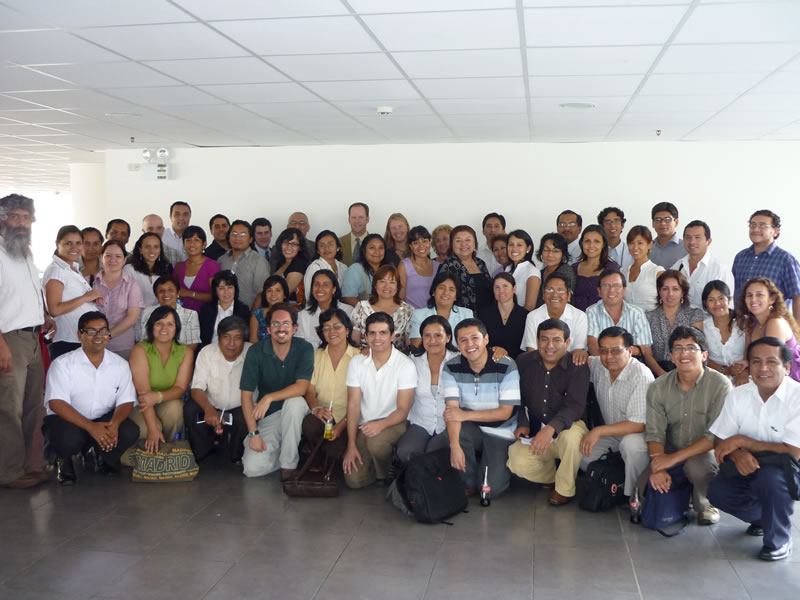 Mentoring: Training the Trainers". The purpose of the meeting was to strengthen abilities of mentors in developing effective trainee relationships. Topics included characteristics of effective mentors, case studies of mentoring experiences, ethics in research, authorship and plagiarism, and distance mentoring.  Trainee leaders discussed how to select and approach potential mentors, nuances of international training, and obtaining research funding, jobs and publications. Experienced mentors Silvia Montano and Joseph Zunt chaired a mentor session discussing key mentoring tasks, preparation and assessment of mentoring, mentors as role models, mentoring challenges and case studies.
Sixty-seven faculty mentors, trainees and affiliated investigators attended representing the UW, Instituto Nacional de Ciencias Neurológicas, Universidad Nacional Mayor de San Marcos, the U.S. Naval Medical Research Center Detachment, Universidad Peruana Cayetano Heredia, Inmensa, EsSalud Huancayo, Fogarty Training Program, Impacta, Cuerpo de Paz, Instituto Nacional Perinatal, and Hospital de Apoyo Iquitos.
Principles of HIV/STD Research
The Annual Principles of HIV/STD Research Course is designed to provide MD and PhD pre- and post-doctoral fellows, junior faculty, and researchers entering the HIV/STD field with a comprehensive overview of the current state of knowledge in several areas of HIV/STD research. The course presents a broad overview of the field, including behavioral research, international research, epidemiology and biostatistics, clinical research, and viral and bacterial pathogenesis of HIV and other STDs.  More information about this course may be found at the following link:  Principles of HIV/STD Research.    A Kenya-based course is held in Nairobi every January through the Fogarty International AIDS Research and Training Program.