Gunpowder
Chinese military strategists sought ways to create effects from a distance. For example, by Song times they had sophisticated methods for producing smoke. Gunpowder's potential to move objects therefore made it attractive to military strategists designing weapons.
Gunpowder was first used by people seeking immortality (though this esoteric use of it was probably not known to most Chinese). The first textual evidence of a proto-gunpowder formula is contained in a work dated about 850. So far as we know, Essentials of the Military Arts records the first true gunpowder formula and describes how to produce it on a large scale. Its first use in warfare was as an incendiary, or fire-producing, compound.
Gunpowder was of many different types. Chinese texts identify blinding powder, flying powder, violent powder, poison powder, bruising and burning powder and smoke-screen powder.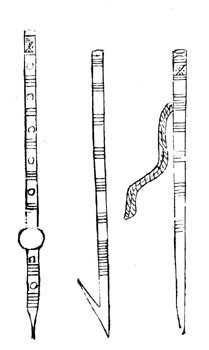 Starting from the Tang or the beginning of the Song, small packages of gunpowder wrapped in paper or bamboo were attached to arrows, which marked the first use of gunpowder in war (see the illustration at left). These would be lit with a fuse of some kind, so that the arrow became an incendiary, intended to set targets afire.
In the group of projectiles at left, the different styles correspond to two different types of javelin-propulsion methods. Note the arrow with the gunpowder chamber.