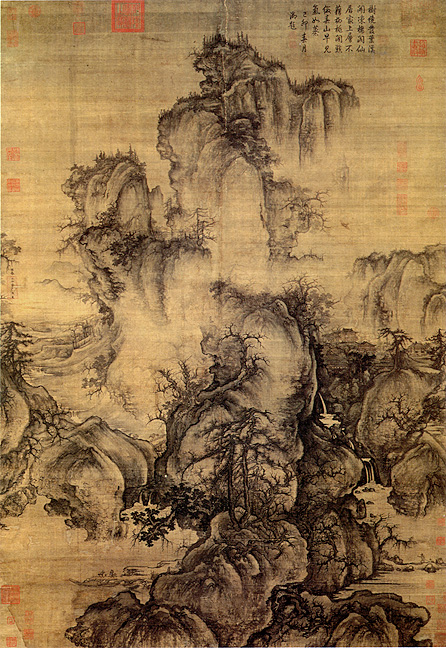 Early Spring, done in 1072, is considered one of the great masterpieces of the Northern Song monumental landscape tradition. It is a rare example of an early painting executed by a court professional who signed and dated his work.
How do man and nature relate to each other within the landscape?
Guo Xi (ca. 1020-1090), Early Spring, dated 1072
SOURCE: Guo Xi (ca. 1020-1090), Early Spring, dated 1072 , in James Cahill, Ge jiang shan se - Hills Beyond A River: Chinese Painting of the Yuan Dynasty, 1279-1368, Taiwan edition (Taipei: Shitou gufen youxian gongsi, 1994), pl. 2.6, p. 71. Collection of the National Palace Museum, Taiwan.
Hanging scroll, ink and light colors on silk, 158.3 x 108.1 cm.
Guo Xi developed a strategy of depicting multiple perspectives called "the angle of totality." Because a painting is not a window, there is no need to imitate the mechanics of vision and view a scene from only one spot.
Like most Song landscapists, Guo Xi used texture strokes to build up credible, three-dimensional forms. Strokes particular to his style include those on "cloud- resembling" rocks, and the "devil's face texture stroke," which is seen in the somewhat pock-marked surface of the larger rock forms.

MORE: Early Spring is characterized by ease and surety of strokes, executed quickly and having a tensile quality and structure. There are seven to eight layers of ink in softer areas, and the tonal range throughout is subtle. Broad outlines of boulders merge with background, showing a preference for integration.

Guo Xi made his reputation on his landscapes and pictures of dried trees, which are recognizable for their "crab-claw" branches. He painted "tall pines, lofty trees, winding streams, craggy cliffs, deep gorges, high peaks, and mountain ranges, at times cut off by clouds and mist, sometimes hidden in haze, representing them with a thousand variations and ten thousand forms."

Guo Xi is known to have prepared large-scale paintings for the decoration of several halls at court. Nevertheless, appreciation of his work at court varied greatly over time; it was said that after his death, his painting style had so fallen out of favor that a visitor to the court found someone using his old paintings as rags.
| | |
| --- | --- |
| Guo Xi's paintings often contained three types of trees. The lesser, bending trees Guo Xi described anthropomorphically as holding one's creeds within oneself; the crouching, gnarled trees were seen analogous to an individual clinging to his own virtues; and the vertical trees were compared to those individuals who remain abreast of their environmental conditions (politics) and flourish. | |