YouTube Playlist (Click Icon Below to Expand)
Mike Tagawa is one of three Japanese Americans to have joined the Black Panther Party.  Like Richard Aoki, the national Black Panther Party co-founder, Tagawa was born in an internment camp (Minidoka, 1944).  After the war, Tagawa's family lived in public housing projects in Renton Highlands and Seattle's Rainier Valley neighborhood before moving to Seattle's Central District.  After graduating from Garfield High School, he joined the U.S. Air Force, eventually serving as a medic in the Travis Air Force Base Psych Ward.  While stationed at Travis in 1965 and 1966, Tagawa regularly visited U.C. Berkeley and joined the anti-war movement. 
He returned to Seattle in 1966, stayed active in the anti-war movement, and, with the encouragement of an old classmate and BPP Minister, Bobby White, joined the Seattle chapter of the Black Panther Party in 1968.  Tagawa did not hold a leadership position in the Party, but his interview provides revealing descriptions of the life of a "rank and file" Seattle Panther.  After leaving the Black Panthers in 1970, Tagawa co-founded, along with his future brother-in-law Alan Sugiyama, Seattle Central Community College's Oriental Student Union (OSU), which led a series of demonstrations in the Spring of 1971 demanding that SCCC hire Asian administrators. 
Mike Tagawa discussed his experiences in the Black Panther Party in a videotaped interview conducted by Janet Jones on June 6, 2005, and discussed the Oriental Student Union with Trevor Griffey and Leo Totev on XX date.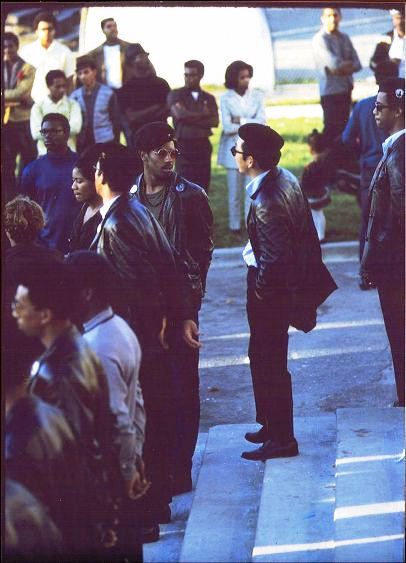 Mike Tagawa in a Panther formation at Garfield High School, 1969. Photo courtesy of Eugene Tagawa.