UW Medicine Compliance
Updates
UW Medicine Compliance will provide relevant articles, news links, job opportunities and events as they become available. Please check back with us often.
Do You Text or Email Patients?
UW Medicine Compliance reminds you about the responsibility of texting or emailing patients. Please read a text conversation between a clinician and compliance analyst to learn more.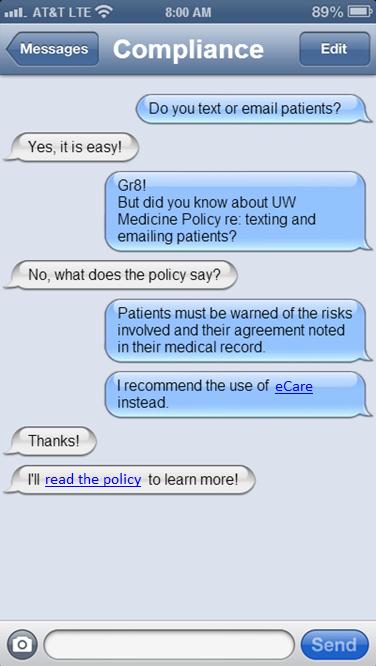 Reference: UW Medicine Policy Patient Rights Related to Protected Health Information (PHI) – COMP.104
If you have any questions, contact us.
UW Medicine Hotline (anonymous)
The UW Medicine Compliance Hotline is provided to assist individuals in UW Medicine in complying with the federal and state laws, regulations, and institutional policies that impact our work. Questions are addressed and information can be obtained about compliance related issues or concerns that may be affecting work at UW Medicine.
1.206.616.5248 (local)
1.866.964.7744 (toll free)
For more information, click here.
Employment Opportunities
Current Employment Opportunities in Compliance
UW Medicine Compliance may have current openings for compliance professions. Visit the UW employment web page for further information.
Certificate in Healthcare Regulatory Compliance
Today's healthcare industry is facing pressure to increase accountability for its actions like never before, and increased regulation requires greater operational safeguards. Integrating regulatory compliance, standards of conduct, and ethical business practices is essential to short- and long-term success. As a physician, claims manager, executive leader, attorney, nurse, or other healthcare professional, we are all faced with, and accountable for, regulatory compliance.
This certificate program, offered by UW Professional and Continuing Education, provides critical resources to all healthcare workers, helping them to carry out their responsibilities to their patients, peers and communities in an informed, ethical, and responsible way.
For additional information regarding the Healthcare Regulatory Compliance certificate program, requirements and current offerings, please visit UW Professional and Continuing Education website.
Articles and News Links