Home > General Information > Educational Resources
| |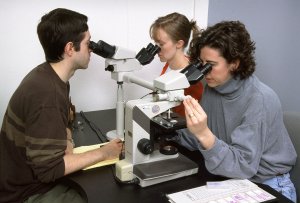 Multiple microscopes are available for study of slide banks including the AFIP Wednesday veterinary histopathology slide conference series.
Educational resources include a kodachrome slide bank and CD-ROM which contains several hundred slides on diseases of laboratory animals, approximately 25 auto-tutorial programs (e.g., Alternatives, Diseases of non-human primates), a variety of videotapes (e.g., Diseases of Mice and Rats by Dr. Barthold from the Charles L. Davis D.V.M. Foundation series), NOAH's archive CD-ROM which includes 25,000 still frames visuals (e.g., histopathology),the Armed Forces Institute of Pathology Wednesday Slide conference series from 1985- present and a Departmental subscription to the on-line AFIP veterinary systemic pathology.
Libraries include the Health Sciences Library and the DCM post-doc library which together provide access to hundreds of journals and thousands of books.