Home > Academic Programs > Home
Postdoctoral Training in Laboratory Animal Medicine
Training Environment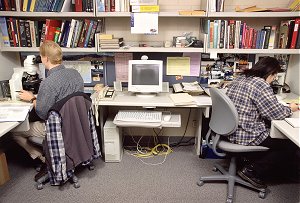 Post-doctoral offices are shared by two fellows and offer computer support including network applications, word processing and imaging programs.
The University of Washington, as one of the nation's preeminent research universities, provides an unusually rich environment for training in comparative medicine. As one indicator of research activity, the National Science Foundation's latest report ranked the UW first among public institutions in the total federal support to colleges and universities.
The Warren G. Magnuson Health Sciences Center is an integral part of the UW and reflects the institution's three-part mission to provide outstanding programs in research, teaching, and public service. The Center is comprised of the following professional schools: Dentistry, Medicine, Nursing, Pharmacy, Public Health and Community Medicine, and Social Work.
The School of Medicine is a regional school for Washington, Wyoming, Alaska, Montana, and Idaho, and is a nationally and internationally recognized leader in scientific research, medical education, and patient care.
The Washington National Primate Research Center, established in 1961, is one of seven centers in the nation devoted to biomedical research in which nonhuman primates play an important role. The Center is known particularly for research in animal models of AIDS, neuroscience, developmental biology, cardiovascular physiology, and biochemistry. The center operates an Infant Primate Research Laboratory jointly with the Child Development and Mental Retardation Center.
The Department of Comparative Medicine is one of ten basic science departments in the School of Medicine. In pursuit of its mission, one of the Department's goals is to promote an environment that will foster competitive research, encourage collaboration with other University units, and provide the intellectual and technological setting appropriate for state-of-the-art training.