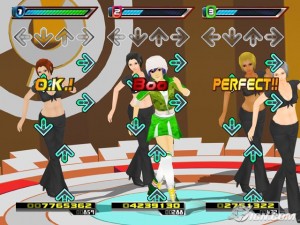 The Keywords for Video Game Studies graduate interest group's (GIG) second event of the Winter Quarter is on Thursday, February 21, 1:30-3:30 PM, in Communication 202.  This is our fourth public reading and discussion group of the academic year and will focus on the gaming terms "Bodies/Sex."  
The Keywords for Video Game Studies working group, in collaboration with the Critical Gaming Project at the University of Washington, is supported by the Simpson Center for the Humanities.
What to Expect
The format for the reading group/workshop is simple: read, play, gather, discuss.  (And share in some refreshments.)  Though our immediate audience is graduate students, our goal is to bring together people from a variety of fields and from all different points in their academic careers who have an interest in video game studies.  The reading group/workshop format allows us to frame the discussion with a handful of short essays, a few key games, and the rest is up to participants to tease out the issues and angles related to the day's key word.
What to Read
We hope everyone can read and come prepared to discuss the following essays:
If you have a UWNetID, you can find copies of each essay on e-reserve.  If you do not have access to UW e-reserves, please contact us and we'll work something out.
What to Play
Though we will undoubtedly talk about many different games, we have selected the following games to serve as common points of reference for our discussion. The games marked with an * are playable for free. The other games require some online research on Wikipedia, Youtube, etc.
What to Discuss
Common discussions about video games and bodies usually revolve around fantastical representation of women's bodies, e.g. Lara Croft, or controversies about sexual content, e.g. Grand Theft Auto and the Mass Effect series. In this "Bodies/Sex" Keywords session, we wish to avoid knee-jerk reactions and delve deeply into questions about the relations between embodiment, sexuality, representation, and performance. The layered levels of mediation present in gaming situations – the controls, the screen, the avatars – create a unique situation for discussing embodiment – should we be discussing the on-screen body or the player's physical form? What impacts do each have on the other? Video game platforms also allow for discussion of what it means to build a gendered/sexualized/embodied identity as well as the limits of oft-linear game play and accumulation-based scoring systems on constructing such an identity. Relatedly, we wish to discuss how representations of gender and sexuality in games impact the range of available identities for players, and also how these constraints or boundaries might be both productive and limiting.
Bodies and sex are often elided in mainstream games, but the rise of smaller independent authors has brought with it an explosion of games dedicated to exploring these topics. Work by authors such as anna anthropy and Stephen "increpare" Lavelle takes on bodies and sex in ways quite different from the often-constested representations in mass-market games like Dragon Age and Mass Effect, and it may be useful to contrast these approaches in our discussion.
We offer the following questions to frame the discussion:
What does it mean to be embodied in/when playing a video game? Where is the line between play and performance?
How can we begin to discuss the powers and limitations of in-game bodies in ways that allow for how the in-game body is constrained and shaped by forces internal and external to the game?
Where can we start to investigate common representations of bodies in video games? E.g. How are "straight" bodies represented? How are "queer" bodies represented? "Able" bodies? "Normal" bodies?
How is sexuality integrated into game play? Game narratives? Game timing? How does this differ between mainstream and indie games?
How do these depictions of sex and bodies control, limit, or intersect with the range of playable identities?  What implications does this hold for the players' ability to perform a personal identity?
Feel free to comment on these here or add your own questions.  Either way, come be a part of our discussion Thursday, February 21, 1:30-3:30 in CMU 202.