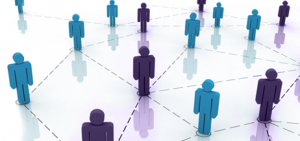 by Theresa Horstman and Edmond Chang
Thanks to those who joined us for our most recent Gaming Keywords session, CLOSE/DISTANT on April 4, 2013.  The games and readings represented multiple interpretations of our fifth keyword for this year, and as usual, the conversation ran the gamut: reading, playing, research methods, intimacy and space.
Close playing is to video games what can be interpreted as the equivalent of close reading in literature.  As one of the readings defined, "Close playing, like close reading, requires careful and critical attention to how the game is played (or not played), to what kind of game it is, to what the game looks like or sounds like, to what the game world is like, to what choices are offered (or not offered) to the player, to what the goals of the game are, to how the game interacts with and addresses the player, to how the game fits into the real world, and so on. Close playing is about revealing and analyzing what Galloway calls the diegetic and nondiegetic spaces and features of the game."  Close playing is about developing critical ways of reading, playing, seeing, and experiencing a game that ironically is about a kind of critical distance from the "flow" of play.
Distant reading, as summarized in Kathryn Schulz's article, is a large scale analysis of large works of literature–much like big data in play analytics.  Schulz meditates, "The idea that truth can best be revealed through quantitative models dates back to the development of statistics (and boasts a less-than-benign legacy).  And the idea that data is gold waiting to be mined; that all entities (including people) are best understood as nodes in a network; that things are at their clearest when they are least particular, most interchangeable, most aggregated."  However, the difficulty is understanding that data does not always equal certainty or fact.  How we choose to position ourselves in relation to the game, close to the experience or removed from a single event, changes how we make sense of it.  Similarly, combining qualitative research methods with big data tells us a different story about the player experience than the numbers alone.  It is important to provide context and depth for parts of large data sets.
In other words, the study of, research in, and critique of games requires a set of practices and approaches that can handle the multimodal- and multimedia-ness of video games.  Akin to the age old narratology versus ludology debate (a binary that no longer holds much soup), these critical practices and approaches cannot simply rely on games as texts, stories, or gamer experiences nor can they reduce (abstract?) games to the crunching of numbers, stats, or data sets.
All in all, the session was thoughtful and insightful.  Thank you once again for everyone's continued interest and attendance.  For our final session of the year we will be hosting THATCamp Epic Play on May 24and 25, 2013.  Building on previous years' colloquia, this year's THATCamp, broadly themed by the keyword "EPIC," is the capstone event to a year-long series of workshop sessions on violence, history, fantasy, bodies/sex, and close/distant.  THATCamp Epic Play hopes to foster the growing engagement with what it means to study or make or play games.  For more information and (last minute) registration: http://epicplay2013.thatcamp.org/