D Center
Newsletter
Imani Barbarin 
"Crutches and Spice"
Imani is a communications professional, public speaker, writer, blogger, and activist. Imani uses their platform to advocate for representation and inclusion as an African American woman with Cerebral Palsy. To learn more about Imani's work
check out their website 
"Crutches and Spice"
or their 
twitter
.
Image credit: 
CrutchesandSpice.com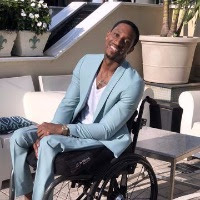 Antwan Tolliver
"Freedom Is Fly"
Antwan Tolliver was the victim of gun violence which left him paralyzed. While Antwan's life altered drastically they were inspired to create the company "Freedom Is Fly", an affordable street style brand that celebrates diversity and comfortable clothes. To learn more about what he 
does visit his website
.
Keri Gray
Ford Foundation
Keri Gray is an African American woman who centers their work on exploring the intersections of race, gender, and disability across the workplace. Keri works with companies and organizations to assist them understanding the value and importance of implementing 
intersectionality as a part of their business. To learn more about what Keri Gray does, 
visit her website
. Image via 
withkeri.com
 Don Galloway (1938 – 2011)
Disability and Civil Rights Activist
Don Galloway was one of the many pioneers for inclusion standing at the intersection of the Black and Disabled communities demanding justice in the 1960's. Don became a key player in the early days of the Independent Living Movement and successfully challenged discriminatory laws that barred people with disabilities from serving as employees in the United States Foreign Service. Don was the first blind person to serve as a Peace Corps Director in Jamaica. Click the link to learn more about Don Galloway.
Andraea LaVant
Inclusion Specialist & Producer 
Andraea is a communications consultant and inclusion specialist who works with programs that supports disabled youth and adults as well as other underserved populations. Andrea is the Impact Producer of Netflix Documentary movie, "Crip Camp." To learn more about what Andraea's work visit their website.
UNIVERSITY OF WASHINGTON
COUNSELING CENTER
Open Virtually
Get an appointment
Phone: (206)-543-1240
Website: 
click here
Copyright © 2020 UW D Center, All rights reserved.
D Center physical space is closed!
Our mailing address is:
D Center
4001 E Stevens Way NE
HUB 327
Seattle, WA 98195
Want to change how you receive these emails?
You can update your preferences or unsubscribe from this list.