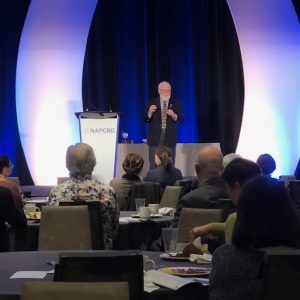 Bill Phillips is a family doctor in Seattle, where he practiced full-time, full-spectrum care for 20 years. He was the Theodore J. Phillips Endowed Professor in Family Medicine and directed the Primary Care Research Fellowship at the University of Washington. Bill earned his MD and MPH form UW and completed residencies in family medicine and preventive medicine.
Bill was a pioneer in interdisciplinary practice, inter-professional training and partnering with patients. His broad interests include practice-based research, patient-doctor communication, suffering, healing, and preventative medicine, particularly in cancer and HIV/STDs.
At NAPCRG, Bill won research awards as a resident and practitioner, was named Outstanding Research Mentor, and served as president 1995-97.
He helped found the Annals of Family Medicine, served on the editorial team for 18 years, and as editor in 2019.
Bill has brought practice experience, primary care perspective and research expertise to healthcare policy at the highest levels, including in preventive services (US Preventive Services Task Force), clinical guidelines (AAFP), immunization practices (ACIP), science communication (NLIM), technology assessment (BC/BS) and evidence-based care (Medicare). He helped family medicine earn its place at the table and demonstrated its value to other specialties, academic experts, health services planners, purchasers, and policy leaders.
As a generalist scholar-clinician-leader, Bill brings together investigators, practitioners, patients, learners, nations, disciplines, and generations. By connecting the realities of community practice, the joys of comprehensive care, and the importance of primary care research, Bill has advanced science and empowered clinicians and the patients and communities they serve.
Congratulations, Bill!
Read more about the Maurice Wood Awardee for Lifetime Contributions to Primary Care Research (NAPCRG) here.