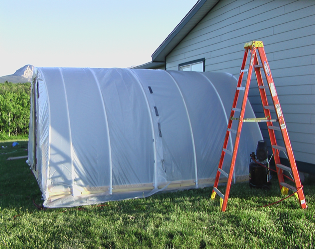 Healthy Heart Project Greenhouse: A greenhouse community project initiated by Megan Chandler in Heart Butte, MT (RUOP III-3 2007)
Students should sequester 6 weeks of their summer to complete their RUOP-III-3 requirements; 4 consecutive weeks in the field and 1 week before and 1 week after fieldwork to complete assignments.
Readings & Community Assessments
"Community Oriented Primary Care" provides an intellectual framework for III-3. This approach combines primary care with concepts of public health. It teaches an understanding of the important issues affecting health in a community and emphasizes their relevance in clinical medicine.
Students must complete an orientation workshop, a number of readings, and a demographic analysis of their community before arriving in their community.
Students should allow at least one week after spring quarter finals before beginning their III-3 experience. This will allow time to complete the prerequisite assignments.
Reflective Journaling
As students immerse themselves in the clinical and cultural life of their III-3 community, they take responsibility for their own learning. Much of the learning is "experience-based". Reflective journaling is a key strategy to focus on new knowledge gained from multiple experiences.
students will journal about what they are learning through their experiences
III-3 faculty mentors will respond to student journal entries to encourage deeper understanding and insight.
Developing & Implementing a III-3 Project
With input from the community, students identify a health issue and implement a project to address the problem. The student must consult the professional literature and compete a brief annotated bibliography that informs or supports their content and methodology.
III-3 Poster
Students summarize their III-3 accomplishments in an academic poster.
Information about designing and developing an academic poster is in the III-3 Syllabus. III-3 faculty are available for consultation throughout the process.
The academic poster measurements must be 24″ high and 36″ wide.
A III-Poster Template is available to insure proper size, however, students may use their own creativity in poster development.
Poster Printing
III-3 program will pay for ONE poster draft and ONE final poster when printed at the UW Posters Locke Computer Center.
Posters are generally due 2 weeks after completion of field experience.
All assignments are electronically submitted through Catalyst "Collect It" tool.
Fall Poster Session
Students must be available to present their posters to the SOM community at the fall Poster Session on the Seattle campus. Faculty and peers will evaluate student posters. The Poster Session is open to friends and family.