Curriculum Overview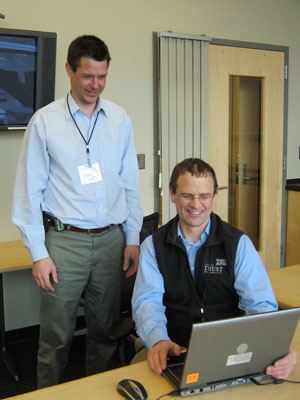 The Targeted Rural Underserved Track (TRUST) curriculum is a focused medical school experience in underserved rural and underserved small city healthcare. Its goal is to produce physicians committed to practice in the underserved areas of the WWAMI region.
TRUST scholars have an opportunity to practice with a mentor in a rural town or small city for one or two weeks prior to their first year of medical school. They will return to their site for continued experiences over the course of their medical school education.
General Timeline
Compliance
In order to participate in their First Summer Experience and future TRUST activities, students must complete every item on the compliance checklist.
TRUST First Summer Experience (June – August before first academic year begins)
TRUST Scholars spend 7-14 days with a mentor at an underserved rural or underserved small city community healthcare site, which, in most cases, they will return to for continued experiences.
As included in the TRUST First Summer Experience Guidelines, Scholars will:
Enroll in the Underserved Pathway
Complete the Underserved Pathway Public Health Epidemiology Module.
Complete a Walk Around Discovery Tool to learn more about their TRUST continuity community.
Meet the Healthcare Team: TRUST Students will have a list of people to meet in their community.
Academic Year …
Foundations Phase
The Foundations curriculum varies from campus to campus, but all TRUST Scholars:
Maintain contact with their community site mentor and arrange at least one return visit to their underserved site in the fall and one in the spring
Establish a second mentoring relationship with a UWSOM College faculty member
As funding allows, participate in national and regional rural and underserved health conferences once during their medical school career
Return to their TRUST continuity community periodically
Participate in the TRUST Leadership Retreat during May/June of Foundations
Summer of Foundations
TRUST Scholars participate in the Rural/Underserved Opportunities Program (RUOP) and complete anIndependent Investigative Inquiry (iii3), in collaboration with their continuity community mentor at their TRUST continuity community.
Patient Care Phase
TRUST Scholars:
Pursue their mentoring relationships and continue participation in specialized seminars
As funding allows, participate in national and regional rural and urban underserved health conferences
Participate in the WWAMI Rural Integrated Training Experience (WRITE), an 18+ week elective continuity clerkship, working with their continuity community mentor at their continuity community site
Career Exploration & Focus Phase
TRUST Scholars:
Have the option to enroll in a variety of rural electives in different disciplines
Pursue their mentoring relationships and continue participation in specialized seminars
As funding allows, participate in national and regional rural and urban underserved health conferences
Explore opportunities for advanced inpatient and outpatient experiences at UWSOM approved sites to help prepare for their R-1 year
Receive residency application counseling and support, career counseling, assistance with residency application