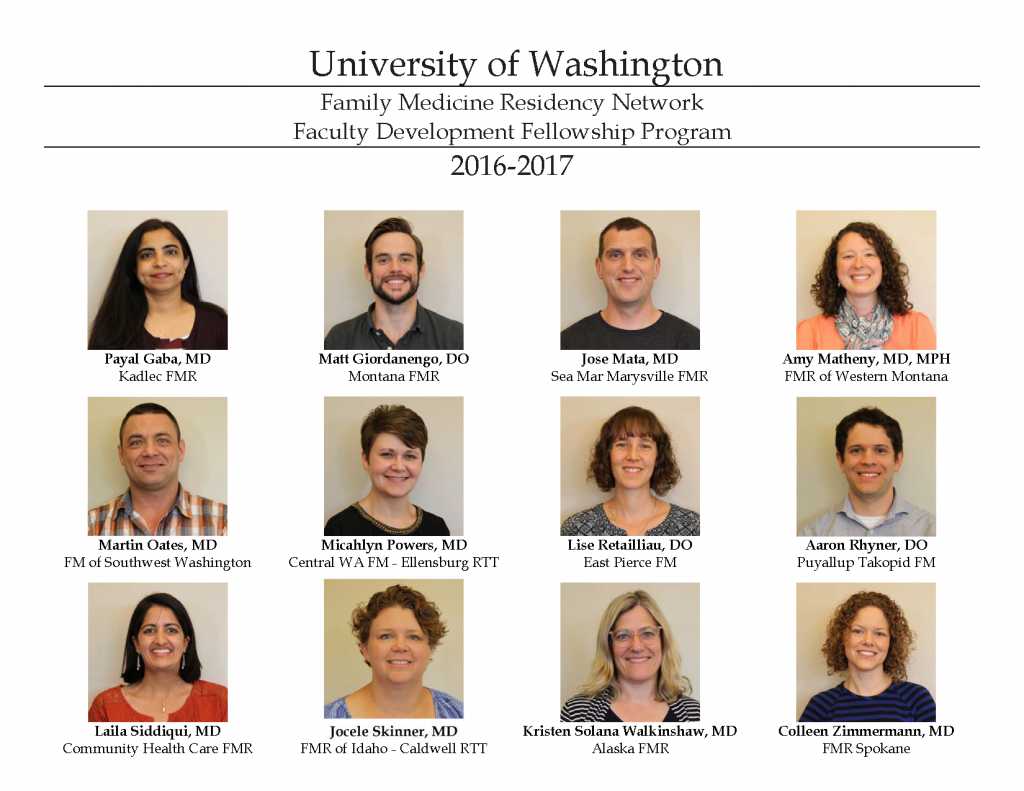 The Department of Family Medicine and its affiliated Residency Network at the University of Washington believe that fellowship training is critical to the evolution of family medicine. The current Faculty Development Fellowship program is designed to prepare family physicians for full-time teaching careers in medical schools and family practice residencies. 12 fellows are admitted each year and spend five full weeks at the University of Washington Seattle campus. Each fellow spends one year in the Fellowship, functioning as a faculty member in one of the affiliated residency programs. Fellows' activities include supervised student and resident teaching, individual projects under faculty mentorship, and clinical care in a continuity family practice at their home residency program. This experiential base is enriched by 25 days of intensive instruction at the University of Washington. The goal of our program is to graduate fellows who will develop a successful career as full-time teachers in family medicine. The Fellowship provides the resources, experiences and guidance fellows need to assume demanding roles in academic medicine. In turn, we look to the faculty fellows as a source of innovation and renewal within our Family Medicine Residency Network.
---
Fellowship Dates for the 2016-2017 Fellowship Year
July 18-22, 2016
October 17-21, 2016
January 9-13, 2017
March 20-24, 2017
May 22-26, 2017
Fellowship Dates for the 2017-2018 Fellowship Year
July 17-21, 2017
October 16-20, 2017
January 8-12, 2018
March 19-23, 2018
May 21-25, 2018
---
For more information about the Fellowship, please contact Jennifer Ames/(206) 221-9104, Continuing Education Coordinator or Marcia McGuire/(206) 685-4119, Regional Educator.
---
Past and current Fellows can access more information on the Network Digital Resource Library (NDRL).
---
Faculty Development Certificate Program
Forthcoming
---
To compare the two programs, please click here.