Chair's Notes
Back to top
Friends and Colleagues:  After a snowless winter on the west side, it is finally springtime.  The cherry blossoms on campus have come and gone, and we have received our match results—both true harbingers of the season.  I am glad to see Spring arrive, because this Winter was a hard one for us.  In my January Chair Notes, I began by writing about the loss in December of Roger Rosenblatt. On February 27 we lost another friend and long-time Professor in our Department. Stuart Farber, MD died after a long battle with leukemia. I first met Stu in the late '80's, when I was Program Director at Tacoma Family Medicine.  As a family physician practicing in Tacoma, Stu regularly served as a preceptor for our residents; he believed strongly in the importance of medical education.  One of his strong interests was providing high quality end-of-life care, and he spent much time teaching the residents about this topic.  After helping to start the Hospice of Tacoma, Stu took a sabbatical to learn more about the then emerging field of Palliative Care.  Upon his return he focused on this new and critically important area of medicine.  He came to UW and worked in our Department, while developing one of the first educational programs in Palliative Care for medical students.  His passion for quality care in this area resulted in his leadership in creating a Palliative Care Consultation Service at UW Medical Center. Several years ago Stu was diagnosed with leukemia and recognized that the disease would probably eventually take his life.  Following his own teachings, he served as an exemplar for all of us by planning carefully, prioritizing thoughtfully, and re-telling his story during the last years. Stu's loss will be felt by all of us.  During the last part of his life Stu and his wife Lu initiated efforts to create the Farber Endowed Professorship in Palliative Care.  When completely funded, the Professorship will memorialize Farber's legacy of teaching students and residents the art of providing good care at the end of a patient's life.  If you are interested in supporting the Professorship, go to https://depts.washington.edu/givemed/give/?source=farpro.
National Perspective:  Since we last met I have attended the board of directors meeting and the annual meeting of the Association of Departments of Family Medicine (ADFM) and the ABMS Board Retreat.  Key topics at ADFM included. . . .
Hope Wittenberg, Director of Government Relations for STFM and ADFM updated us on activities of the Academic Family Medicine Advocacy Committee (AFMAC).  This is a group of the four members of CAFM plus the AAFP.  The active advocacy topics for AFMAC include:
Federal GME Funding (Top Priority) (with Teaching Health Centers high on the list)
Workforce—including residency position, expansions, funding and medical school expansion
Title VII
Research, including developing a federal funding stream for FM through PCORI and support of AHRQ
Family Medicine for America's Health (academic issues related to federal policy
Other issues Hope mentioned:
The President's FY16 budget reduces non-defense spending.  The potential impact on 2016 spending is that AHRQ, Title VII, NIH, CDC funding are all at risk and will need to be specifically funded.
Debt Ceiling—will need to be raised again to prevent government shutdown
"Primary Care Cliff": This is a name being applied to the fact that mandatory spending on a number of programs important to FM is set to expire at the end of this fiscal year.  This group includes community health centers (1/2 of funding expires), NHSC (all funding set to expire), Teaching Health Centers (all funding expires).. To reverse each of these, specific action by Congress will be needed.
Primary Care Incentive Payments—run out at the end of this calendar year
Title VII grew to $38.9M last year and another $39M is in the President's budget this year.
Medicare GME: As a specialty, we are interested in global GME reform. The President's budget is the same as last year, with a proposed IME (indirect medical education) cut of 10% for deficit reduction, competitive grants for THC and children's GME, as well as a discussion of 13,000 new slots for shortage specialties.  The good part of this is that this will stimulate conversations on GME.  It is anticipated that several years of conversation will be needed before any significant action is taken.
Teaching Health Centers: Regarding the major issue of funding for THC's, Hope reported that there is some hopeful news on the horizon.  There is currently a move to move THC funding to CMS.  This is being considered by the House Health Committee.  More information should become available within the next couple of weeks.
Hope noted that this large group of issues will probably result in urgent calls from her office and the AAFP to contact our legislators.  She feels that it will be very important for us to respond to these this year.
At ADFM Jim Puffer (CEO of ABFM) and Carlos Jaen (Board Chair of ABFM) discussed the recent moves by the American Board of Internal Medicine to put their version of Maintenance Of Certification (MOC) Part IV on hold.  There is very good evidence that for Family Physicians, participation in Part IV of MOC improves the quality of their practices and the outcomes for their patients.  On another topic, Jim and Carlos commented on ongoing concerns about the scope of practice of Family Physicians. ABFM is studying what appears to be a decrease in hospital care, a decrease in procedural care, a decrease in pediatric care, and a decrease in maternity care by Family Physicians.  Is this really happening?  Is it happening to all family doctors at the same time, or does it happen to us individually as we age?  Is it the same for physicians practicing in small towns as it is in large cities?  Many questions exist.  Jim and Carlos also reported on the ABFM pilot project to datamine the E.H.R.'s of family doctors to see how they actually practice.  This might eventually replace some parts of the MOC exams.
On a different topic, the ABMS Retreat focused on the challenges that our specialty boards and the MOC programs are facing.  If you have not read the opposing PERSPECTIVE articles in the January 8, 2014, New England Journal of Medicine, I recommend doing so.  We need to support the efforts of ABFM and the other Boards to continue legitimate certification programs.  The issues involving ABIM do not seem relevant to ABFM.
As I write this column, the House has passed a bill to permanently fix the Medicare Sustainable Growth Rate.  The Senate is in recess for two weeks, but it is hoped that they will pass the bill with they return, and we will finally see an end to the short-term "patches" that have been passed for many years.  It is also hoped that this bill will include funding for several other items important to Family Medicine.   Stay tuned.
Medical Student Education (MSE): Our medical student education program continues to be very busy.  Over the last two years, as the curriculum renewal project has been underway, we have been working hard to be sure that Family Medicine maintained a significant role.  I am pleased to report that this has happened, and a number of Family Physicians are involved.  The new curriculum will teach the entire first 18 month Foundation Phase at our previous first year sites, including Seattle, Spokane, Moscow, Bozeman, Laramie, and Anchorage.  Each of these sites will feature an 18 month long Primary Care Clinical Practicum, with students spending time each week in a primary care (mostly Family Medicine) practice.  This is envisioned as a continuity experience with the same primary care precepting physician and practice for the entire Foundation Phase.  The highly popular Rural Underserved Opportunities Program (RUOP), long supported by WAFP, will continue.  The Targeted Rural Under-Served Track (TRUST) has grown and will soon be available to students from all WWAMI states.  Family Medicine faculty are leading several themes in the curriculum, including Diversity, Lifelong Learning and Health Equity. Our career advising program has been very active, and I am very pleased to report that 34 UW senior medical students matched into Family Medicine residencies.  This represents 16% of the graduating class, with 65% of these future family physicians matching into residencies in the WWAMI states.
UW Family Medicine Residency:  Spring is a busy season in residency education.  The R-3's are preparing to enter practice, and the program is anticipating the arrival of new R-1's.  It is always a bittersweet time with hellos and goodbyes.  Our residency program filled with great new R-1's in the match.  The new graduates are from the University of Minnesota, Creighton, Emory, UCLA, University of New Mexico, USC, UCSF, and UW.  Major projects over the last year have included preparation for ACGME's Next Accreditation System and work on the new "milestones" residency evaluation system.  Jo Jackson, MD, one of our long-time faculty members is retiring, and we have hired Kim Collins, MD, one of our Harborview graduates who had been in practice in Snohomish, to join us.
Fellowships:  We are now offering several fellowships at the R-4 level.  These include our Chief Resident position, ACGME-accredited Sports Medicine and Palliative Care fellowships, and a non-accredited self-sustaining Global Health fellowship; all of these positions have filled.
UW WWAMI Family Medicine Residency Network: In conjunction with the WAFP, the WSMA, and others, the Network has been advocating at the Washington State Legislature for improved Family Medicine GME funding for Washington residencies.  We probably will not know the outcome of this effort until the end of the legislative session.  We hope to increase funding to at least the level that we had prior to the recession.  I sincerely appreciate WAFP and WSMA advocacy support for this effort.  Two other major projects in the Network are supporting new residencies and offering our help to the osteopathic Family Medicine Residencies as they prepare for the new ACGME unified accreditation system.
MEDEX Northwest Physician Assistant Program: MEDEX now has three first year sites in Washington—Seattle, Spokane, and Tacoma—as well as the site in Anchorage.  The newest site is Tacoma.  It focuses on training veterans, and it will graduate its first class this summer.  The second year MEDEX clinical students participate in rotations all around the region.  Otherwise MEDEX is doing well. We are continuing our search for a new leader of the program.
Sports Medicine: We have 5 faculty members who practice at the Stadium Clinic and who support both the Husky athletes and the SeaHawks.  This group focuses their research on tendon pathology, concussions and heart problems, including sudden death, in young athletes.  Jon Drezner, MD has successfully established the Center for Sports Cardiology at the Stadium clinic.
Palliative Care: The newest section in the Department is Palliative Care.  Both the UWMC Palliative Care program and our medical student education program in Palliative Care were started by Stu Farber, MD.  As noted in the introduction, Stu died last month, and while we will all miss him, his gift to us is UW Medical Center's outstanding end-of-life program and the education of hundreds of medical students in this important area of our care.  Lu Marchand, MD is now leading our Palliative Care group, which is steadily growing and serving more patients.
Research: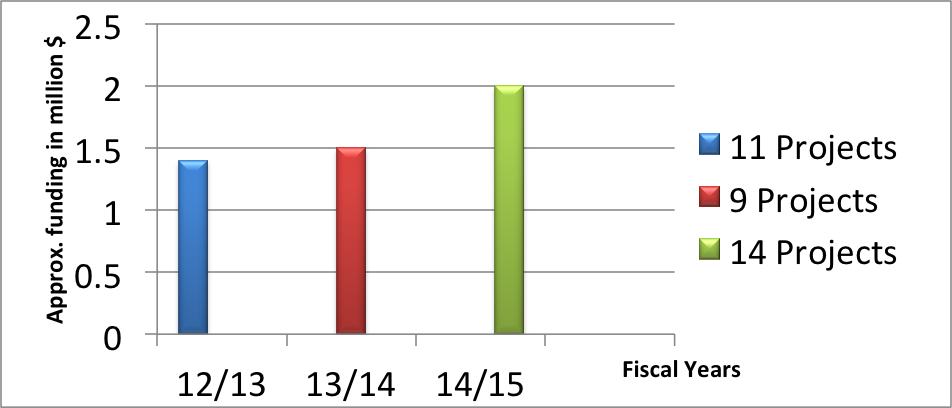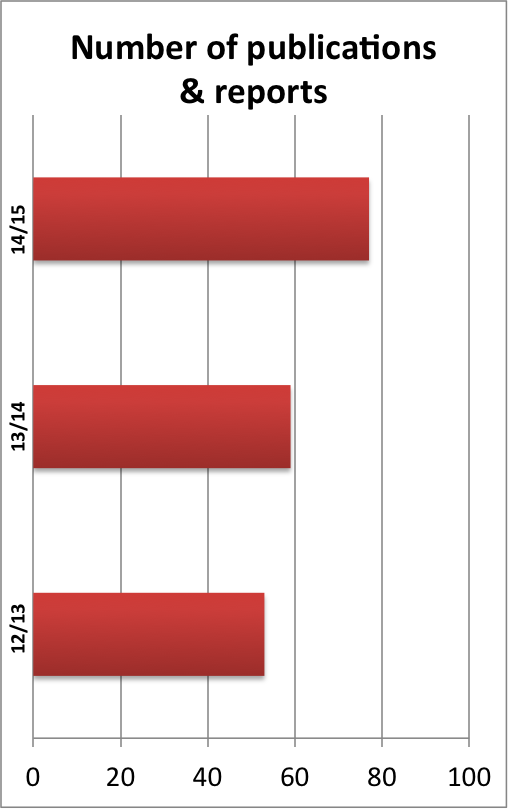 With the addition of our new federally funded Center for Health Workforce Studies, the Research Section is growing.  These graphs illustrate our growth in both publications from the Section and grant funding:
Summary:  Overall, the University of Washington Department of Family Medicine is doing very well.  Our success would not be possible without your support and without the "Family Medicine friendly" climate in the Northwest.  Our Department has more volunteer clinical faculty members than any other department at UW.  You are the people who help us succeed in our decentralized education and research efforts. Thank you for your ongoing support.
Tom E. Norris, MD
Professor and Chair
---
In Memoriam
Back to top
In addition to our own Stu Farber, we remember Wayne Katon, a long-time adjunct faculty member. He is remembered as a dear friend, a generous mentor, and a wonderful colleague. If you would like to make a contribution to honor Wayne, a new fund has been established in his name to support the training of the next generation of physician scientists in Psychiatry and Behavioral Sciences. For more information about the Wayne Katon Memorial Fund please contact UW Advancement at 206-543-5686 or 866-633-2586
---
Staff Hails & Farewells
Back to top
Tia Paganelli, Section Manager, Palliative Care, transitioned with the Cambia grant funding to the School of Nursing in March. Tia was instrumental in working with Dr. Jackie Raetz, UWMC leadership, and the palliative care faculty to help secure Joint Commission certification for palliative care at UWMC over the last year and has been a tremendous catalyst for change in the two years she has been in her role. Dr. Lu Marchand was pleased to offer her part-time position to Kelson Okimoto who has been working part-time with the Department and 0.50 FTE with the UW Palliative Care Center of Excellence the position.
The department was excited to also welcome William Deng into his new Department fiscal specialist role supporting administration, medical student education and the Family Medicine Residency Network. William joins us from Washington State University where he served as a fiscal technician.
Rowena de Saram, Administrator, HMC Family Medicine Clinic, accepted a new role in the Department of Global Health in February. The Residency Section was pleased to announce that Edison Tacardon has accepted the vacant Administrator position and will start his new position on April 13. For the past three years, Edison has worked with the UW Neighborhood Clinics as a Patient Service Representative, Referral Coordinator and Health Navigator. Edison will work at Harborview three days a week assisting Dr. Frederick Chen, Chief of Service and Dr. Jane Huntington, Medical Director and he will manage the HMC Family Medicine Clinic schedules; he will work two days a week at Northgate supporting the Residency section.
The Residency Section also saw the transition of Tristen Gardner in February as she accepted a new Professional Staff role as Program Operations Specialist with the UW Diabetes Research Center located at the VA Puget Sound Health Care System. Replacing Tristen in this Program Coordinator role will be Bianca Bunnell who has been a part-time Office Assistant in the Residency for the past six years. Bianca will start her new role on April 6, 2015.
Cyndy Snyder, PhD, is a new Research Scientist in the Research Section. Dr. Snyder will be joining the Center for Health Workforce Studies (CHWS) team. Prior to joining the UW, she was the Associate Director of Student Planning and Assessment at UW Tacoma. She received her PhD and MA in Education Policy Research from UC Berkeley.
---
Awards & Recognitions
Back to top
Faculty Promotions –
Colleagues:  This is the time of the academic year when we receive approvals from the School and University for faculty promotions that have often been in process for almost a year.  It is also a time to recognize the new appointments that our Department has made so far this academic year (began 7/1/14).  Please join me in congratulating our colleagues listed below.  These promotions and appointments represent excellence in teaching, scholarly work, clinical care, administration and service.  They are AWESOME accomplishments!
| | |
| --- | --- |
| Promotion to Professor | Appointment to Associate Professor |
| Freddy Chen, MD, MPH | Bianca Frogner, PhD |
| Raye Maestas, MD | Appointment to Assistant Professor |
| John O'Kane, MD | Jeanne Cawse-Lucas, MD |
| Promotion to Clinical Professor | Alicia Quella, PA-C, PhD |
| Larry Mauksch, M Ed | Grace Shih, MD |
| Promotion to Associate Professor | Appointment to Senior Lecturer |
| Justin Osborn, MD | Susan Symington, PA-C |
| Ashwin Rao, MD | Appointment to Lecturer |
| Keren Wick, PhD | Kari Bernard, PA-C |
| Promotion to Senior Lecturer | Jennifer Carrol, PA-C |
| Tim Quigley, PA-C | Sarah Serpinas, PA-C |
| Terry Scott, PA-C | Michael Smith, PA-C |
| Promotion to Lecturer, Part-Time | Appointment to Teaching Associate |
| Kira Vader, PA-C | D J Smith, PA-C |
| Appointment to Professor | Wendy Lendrum, PA-C |
| Annette Fitzpatrick, PhD | |
| (joint with Epidemiology) | |
| Lu Marchand, MD | |
From Emily Godfrey –
I was working out with my training group by the Boat House at Green Lake early January 20, when we saw a man fall while jogging near the boat house. I ran over with my trainer. At first he was responsive, but after a few minutes he lost consciousness and had no pulse. I started CPR while the trainer called 911.
A real plus to our Department who encourages us to keep our BLS/ACLS certifications going!
http://seattletimes.com/html/living/2025557273_rantrave28xml.html
First PA to receive UW Medicine Distinguished Alumni Award for Service –
John Betz, an alumni of MEDEX Class 1 from 1969, is a recipient of the 2015 UW Medicine Distinguished Alumni Award for Service. 2015 is the first year that UW Medicine has opened up the alumni awards to Physician Assistants. With this, John becomes the first PA to win such an honor.
In case you missed the MEDEX digital story that tells the story of John Best it can be viewed at http://depts.washington.edu/medex/stories/betz/
2015 WAFP Diverse Constituencies Scholarship –
We are pleased to announce that one of our students, Rozanna Fang, was selected to receive a 2015 Diverse Constituencies Scholarship of $1,000 from the WAFP Foundation. Congratulations to Rozanna!
---
Research
Back to top
CHWS/RHRC
RHRC at NRHA Rural Health Policy Institute –
Eric Larson and Davis Patterson attended the National Rural Health Association's annual Rural Health Policy Institute February 2-5, 2015, in Washington, DC. This meeting is an opportunity for NRHA members to meet with federal lawmakers and representatives of CMS, HRSA and the VA to discuss current federal rural health policy issues. This year, considerable attention was devoted to a new wave of rural hospital closures and possible policy responses.
Joint CHWS/RHRC activities –
Several CHWS and RHRC staff attended the Northwest Regional Rural Health Conference March 17-19, 2015 in Spokane, WA. Holly Andrilla and Davis Patterson presented findings from several research studies (listed below).
Sue Skillman and Davis Patterson presented a webinar based on several RHRC and CHWS studies, "Experiences Using the National Provider Identifier (NPI) for Health Workforce Research," on March 25, 2015. The webinar is part of a series for the Health Workforce Technical Assistance Center based at the Center for Health Workforce Studies at the State University of New York, Albany.
International MSRTP Student
David Veith, a first-year student in the UW School of Medicine, received a Medical Student Research Training Program (MSRTP) award to travel to Can Tho University of Medicine and Pharmacy this coming summer (CTUMP).  The MSRTP program is designed to introduce students to research under the guidance of faculty mentors.  David will be working with Dr. Tam Thi Pham, Vice Rector and Dean, Faculty of Public Health, CTUMP, conducting qualitative research on barriers to hypertension screening and treatment in Viet Nam. His UW faculty advisor is Annette Fitzpatrick (FM Research Section).
Tobacco Studies
The International Quitline Institute (IQI) team, co-directed by Abigail Halperin (UW) and Ken Wassum (Alere Health), conducted a one-day pre-conference workshop and main session symposium at the World Conference on Tobacco or Health (WCToH) in Abu Dhabi March 17-21st. The workshop, Optimizing Reach and Effectiveness of Tobacco Quitlines, was focused on two crucial aspects of developing and improving effective quit lines: Training counselors to provide evidence-based treatment of tobacco dependence, and creating protocols for providing cessation services, including the intake and registration process, order and content of counseling calls, developing individualized quit plans, and providing education and decision support for approved cessation medications, among others. The symposium, Increasing Reach and Effectiveness of Tobacco Cessation Services Via Quitlines and Provider Training, provided real-world examples from several low and middle-income countries of how quitlines can be integrated into national tobacco control strategies and health care systems to reduce tobacco use prevalence, and how providers and tobacco treatment specialists (TTS) are trained and programs accredited.
Women's Health
Funding –
The UW Division of Family Planning is finalizing funding for a placebo-controlled study evaluating the treatment  of heavy or prolonged bleeding among new Copper IUD users with naproxen sodium. Dr. Emily Godfrey is leading this research  and collaborating with colleagues from the UW Department of Obstetrics and Gynecology and  Stroger Hospital of Cook County, IL. This study plans to recruit new Copper IUD users from Northgate, Hall Health and Roosevelt WHCC clinics. Participants will be treated for three consecutive menstrual cycles with naproxen sodium, followed by one month without treatment.  Participants will respond to texts with reports of daily bleeding. This study aims to determine if simple treatment with over-the-counter naproxen can improve heavy or prolonged menstrual bleeding reported by new Copper IUD users. For more information about this study, contact Emily Godfrey, godfreye@uw.edu.
WPRN
2015 annual meeting prepares the WWAMI region Practice and Research Network for pragmatic clinical trials –
At the 2015 WWAMI region Practice and Research Network (WPRN) annual meeting on March 4th, Rowena Dolor, MD, MHS, of Duke University Medical Center and Vanderbilt University School of Medicine, gave a keynote address on the Opportunities and Challenges of Conducting Pragmatic Trials in Practice Based Research Networks (PBRNs).  Pragmatic trials are randomized controlled trials designed to test the effectiveness of interventions in 'real world' clinical practice. Dr. Dolor has extensive experience with pragmatic clinical trials and provided guidance for how the WPRN can prepare for successful engagement in this type of research. Her address garnered much enthusiasm and excitement for moving in this direction. For more information about the WPRN please contact Gina Keppel (gakeppel@uw.edu).
Rural Health Conference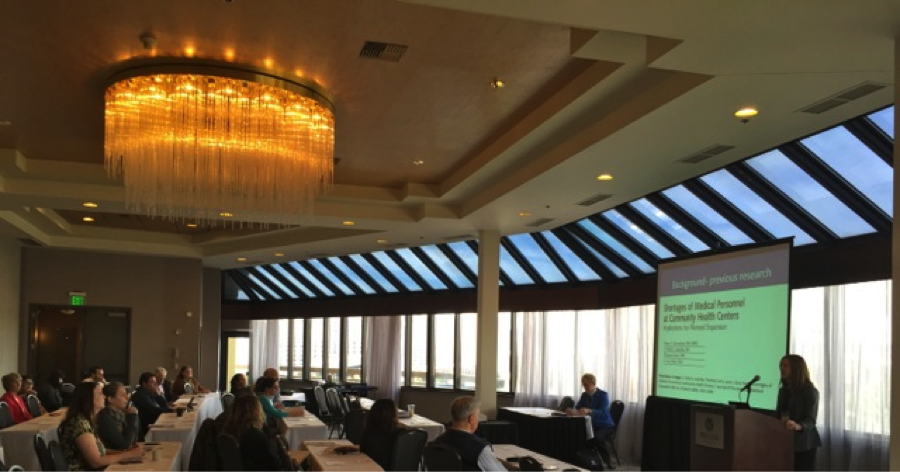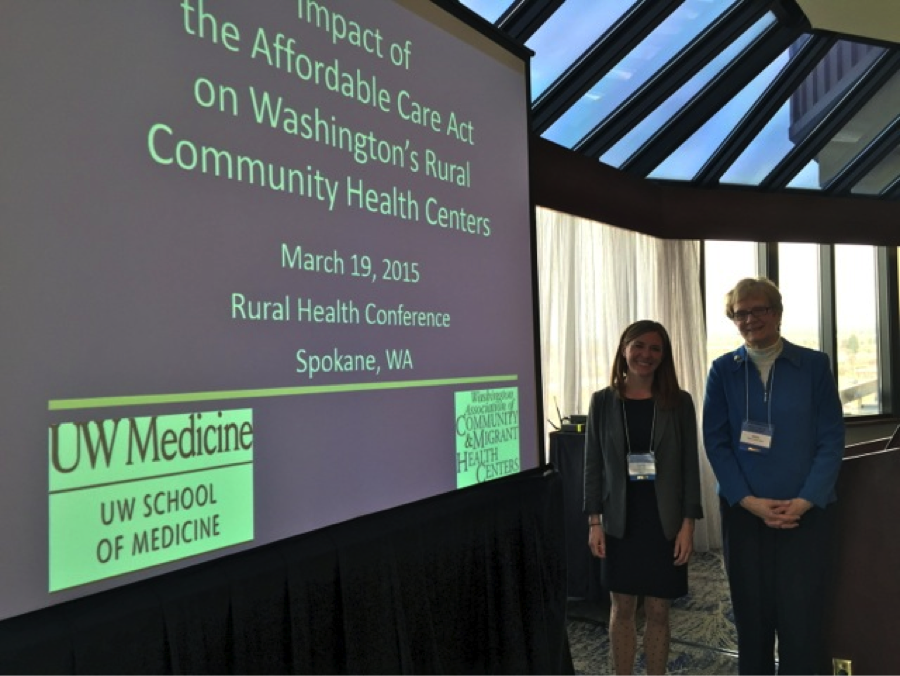 Sophie Cain Miller
---
Residency Match 2015
Back to top

---
MEDEX
Back to top
MEDEX Northwest will host the PAEA Western Regional Consortium for PA educators over the weekend of June 26 – 28, 2015. This event will be staged at the University of Washington campus in Tacoma, Washington. The consortium includes all PA educational programs in the states of Arizona, Alaska, Colorado, California, Hawaii, Idaho, Montana, Nevada, New Mexico, Oregon, Utah, Washington and Wyoming. This year, the conference theme is interprogram mentoring and research and serves as a venue to present current PA educational research, as well as forge interprogram collaboration in mentoring and scholarly work.
---
Sports Medicine
Back to top
Summit on ECG Interpretation in Athletes –
In a continued effort to improve cardiac safety in athletes, the American Medical Society for Sports Medicine and the FIFA Medical Assessment and Research Center (F‐MARC) brought together top sports cardiology and sport medicine physicians from around the world for the 2nd Summit on ECG Interpretation in Athletes in Seattle Feb. 26‐27.  Several UW sports medicine faculty participated – Jonathan Drezner (chair), Kimberly Harmon, and Hank Pelto.
The 2015 Summit will update an international consensus on ECG interpretation in athletes and provide a guide for appropriate secondary investigations of ECG abnormalities.  Whether an ECG is performed for screening or diagnostic purposes, physicians responsible for the cardiovascular care of athletes must be guided by ECG interpretation standards that distinguish normal ECG findings in athletes from ECG abnormalities requiring additional evaluation for conditions associated with sudden cardiac death.
---
UWSOM in the News
Back to top
First, do no harm to UW's top-ranked medical school –
The recent news that the University of Washington remains the nation's top ranked medical school in primary care, and family and rural medicine, as it has for more than two decades, is recognition we can all cheer.
http://www.theolympian.com/2015/04/01/3655759_first-do-no-harm-to-uws-top-ranked.html?rh=1
---
Updates from WWAMI
Back to top
Dr. Harold Johnson appointed Chief Executive for Providence Medical Group Alaska
(Text from memorandum of announcement by Bruce Lamoureux, former Chief Executive) –
Harold Johnston, MD, has been appointed to the role of chief executive for Providence Medical Group Alaska (PMGA), effective March 16, 2015. A long-time member of Alaska's medical community and founder of  Alaska Family Medicine Residency, Dr. Johnston offers PMGA nearly three decades of patient care experience and almost two decades of leadership within Providence Alaska. His passion and concern for improved access to care, especially to the underserved and disadvantaged, have steered his humanitarian interests.
A graduate of Whitman College in Walla Walla, Washington, with a bachelor's degree in philosophy, Dr. Johnston attended the University of Alaska Fairbanks to begin medical studies in the WAMI (now WWAMI) program, and went on to the University of Washington in Seattle to finish his medical degree. Upon completion of a family medicine residency at Swedish Hospital in Seattle, Dr. Johnston began medical practice at the Anchorage Neighborhood Health Center in 1989. By 1996, Dr. Johnston had formed a vision to establish a family medicine residency to train medical students from Alaska and elsewhere for service in rural and underserved areas.
Dr. Johnston accepted appointment as the founding program director for the Alaska Family Medicine Residency at Providence in 1996, and today continues to serve as its designated institutional official. The residency program is one of the most distinguished in the United States. Among other accolades, Alaska has the highest rate of retention for residency graduates of any state in the country. Approximately 80 percent of residents remain in Alaska after graduation, and almost 60 percent serve in rural settings. Dr. Johnston's legacy includes preparing physicians for the joys and challenges of medical practice in underserved areas and securing funding for the construction of a model Family Medicine Center, which is the home base of the residency.
Dr. Johnston is married to Sydney, his wife of 33 years, and father to Eric Johnston and Robin Tyson. Together with five granddaughters, his family serves as inspiration for the most important priorities in life. When a bit of free time presents, Dr. Johnston enjoys hiking and boating. Those who know Dr. Johnston will attest to his eclectic interests in life and a fabulous sense of humor.
Our congratulations to Dr. Johnston!
---
WWAMI Site Map
Back to top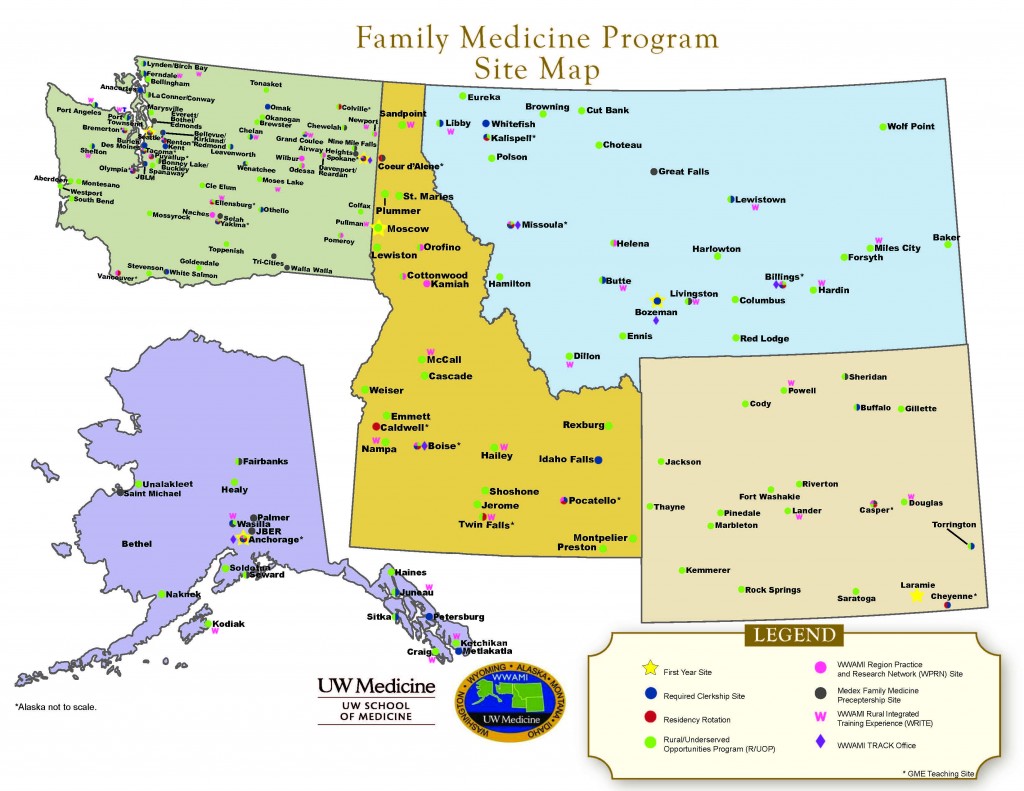 ---
Presentations
Back to top
Bauer AM, Rue T, Keppel GA, Cole AM, Baldwin LM, Katon W. Use of mobile health (mHealth) tools by primary care patients in the WWAMI region Practice and Research Network (WPRN). J Am Board Fam Med. 2014 Nov-Dec;27(6):780-8
Bauer A, Rue T, Keppel G, Cole A, Baldwin LM, Katon W. Primary Care Patients' comfort using mobile devices to share health information. Translational Science conference, Washington, D.C., April 16-18, 2015.
Brock, D.M., Blakeney, E.A.R., and Chiu C. (2015) Assessment of IPE to move beyond attitudes:  Featured tools and case studies from the field.  Invited webinar by the American Interprofessional Health Collaborative.  January 8, 2015.
Dolor RJ, Schmit K, Graham D, Fox CH, Baldwin LM. Guidance For Researchers Developing and Conducting Clinical Trials In Practice-Based Research Networks. J Am Board Fam Med. 2014 Nov-Dec;27(6):750-8
Doescher MP, Jackson JE, Fordyce MA, Lynge DC. Variability in General Surgical Procedures in Rural and Urban U.S. Hospital Inpatient Settings. Policy Brief #142. Seattle: WA, WWAMI Rural Health Research Center, University of Washington, February 2015.
Fleming S, Atherton H, McCartney D, Hodgkinson J, Greenfield S, Hobbs FD, Mant J, McManus RJ,Thompson M, Ward A, Heneghan C. Self-Screening and Non-Physician Screening for Hypertension in Communities: A Systematic Review. Am J Hypertens. 2015 Mar 23. pii: hpv029.
Frogner BK, Spetz J. Entry and Exit of Workers in Long-Term Care. UCSF Health Workforce Research Center on Long-Term Care Research Report. Jan 2015; available at:http://healthworkforce.ucsf.edu/sites/healthworkforce.ucsf.edu/files/Report-Entry_and_Exit_of_Workers_in_Long-Term_Care.pdf
Frogner BK, Spetz J, Parente ST, Oberlin S. The Demand for Health Care Workers Post-ACA. International Journal of Health Economics and Management. 2015; 15(1): 139-151.
Nunan D, Thompson M, Heneghan C, Perera R, McManus R, Ward A. J. Accuracy of self-monitored blood pressure for diagnosing hypertension in primary care. Hypertens 2015;33:755-62
Patterson DG, Andrilla CHA, Ostergard S, Morrison C, Schmitz D, Longenecker R, Skillman SM. Residency Training to Prepare Future Rural Family Physicians. Presented at 28th Northwest Regional Rural Health Conference, Spokane, WA, March 18, 2015.
Patterson DG, Garberson L, Andrilla CHA. The Potential of Community Paramedicine to Fill Rural Healthcare Gaps. Presented at 28th Northwest Regional Rural Health Conference, Spokane, WA, March 18, 2015.
Phillips WR. Caring as the core of your career. Invited presentation to the combined medical school class at A.T. Still School of Osteopathic Medicine – Arizona, HealthPoint campus, Renton, WA, Jan. 16, 2015.
Skillman SM, Andrilla CHA. Nurse Practitioners in Rural America: Findings from 3 recent studies.Presented at 28th Northwest Regional Rural Health Conference, Spokane, WA, March 18, 2015.
Skillman SM, Andrilla CHA, Patterson DG, Fenton SH, Ostergard SJ. Health information technology workforce needs of rural primary care practices. J Rural Health, Winter 2015, 31(1):58-66.
Skillman, SM, Patterson DG, Andrilla CHA, Stover B. Experiences Using the
National Provider Identifier (NPI) for Health Workforce Research. Webinar for the Health Workforce Technical Assistance Center, State University of New York, Albany, NY, March 25, 2015.
Skillman SM. Health Workforce Planning: Who, What, How?  Presented at the National Governors Association's Health Workforce Policy Academy Retreat, Indianapolis, IN, March 23, 2015.
Skillman SM. 2014 Physician Supply, Distribution, and Education Pathways in the WWAMI States.Presented by Suzanne Allen at the Northwest Regional Rural Health Conference, Spokane, WA, March 19, 2015.
Sutko A, Godfrey E, Baldwin LM, West I. Hypertension and Contraception: Why Long acting reversible methods of contraception are best. Poster presented at Society of Teachers of Family Medicine, Orlando, FL, April 2015.
Thompson M. Safety-netting- how and what to provide? Symposium on Management of children with fever. Department of General Practice, Erasmus MC, Netherlands, March 25th, 2015
Torres, L., D. K. Turok, J. Sanders, E. Clark and E. Godfrey. Focused contraceptive counseling and case management versus usual care in women postpartum from a preterm birth: a randomized-controlled trial. Poster presented at the North American Forum of Family Planning, October 2014.
Usher-Smith J, Thompson M, Zhu H, Sharp S, Walter F. The pathway to diagnosis of type 1 diabetes in children: a questionnaire study. BMJ Open 2015;5:e006470
Venekamp RP, Thompson MJ, Rovers MM. Systemic corticosteroid therapy for acute sinusitis. JAMA. 2015 Mar 24-31;313(12):1258-9
Wu JP, Godfrey EM, Prine L, Anderson KL, MacNaughton H, Gold M. Women's Satisfaction with Abortion care in academic family medicine centers. Fam Med. 2015 Feb;47 (2):98-106.
Chapters
Marusina, K., Welsch, D.J., Rose, L., Brock, D.M., Bahr, N., Cohen, A.M., Grace-Sinclair, R.A., Vang, P., Ruminski, P.G., Bloom, B.E., Boccanfuso, A.M., Nagasawa, P., & Guo, B.P. (2014). The CTSA Pharmaceutical Assets Portal—A Public-Private Partnership Model for Drug Repositioning. In R. Chagutura (Ed.) Collaborative Innovation in Drug Discovery: Strategies for Public and Private Partnerships. Wiley and Sons.
Posters & Oral Presentations
Smith, S., Berman, N.B., Dell, M.S, Kogan, J.R., Brock, D.M., and Robins, L.S. (2014).  Creation of an assessment framework for student summary statements. Poster presented at the Council on Medical Student Education in Pediatrics, Ottawa, ON.
Sonney, J., Willgerodt, M.A., Lindhorst, T., and Brock, D.B. (2014) IPE for Advanced Health Professions: Elizabeth – Typical or Troubled Teen?  Poster presented at the All Together Better Health VII, Pittsburg, PA.
Willgerodt, M.A., Liner, D.A., Sonney, J., Velan, E. Fischer, R., and Brock, D.B.  (2014) Exploring the feasibility of an integrated education-to-practice curricula for advanced health trainees in pediatric oral health.  Poster presented at IOM 2014 meeting, Washington, DC.
Willgerodt, M.A., Liner, D.A., Sonney, J., Velan, E., Fischer, R., and Brock, D.M. (2014).  Taking IPE from Classroom to Community:  The i-TEETH Program.  Invited poster presented at Macy Foundation, New York.
---
Publications
Back to top
Dobie S. Another list or a grounding tool. Thoughts on the Q-List Manifesto. Families, Systems, and Health. 2015; 33(1): 14-15
Phillips WR and the Annals of Family Medicine editorial team. Shorter is Better – Writing Effective Research Reports. STFM Digital
Resource Library. 2/1/2014.
Phillips WR. Delivering the Future. Washington Family Physician. 2015;42(1):16-18.
Rao AL, Salerno JC, Asif IM, Drezner JA. Evaluation and Management of Wolff-Parkinson-White in Athletes. Sports Health. 2014;6(4):326-32.
This article won the 2014 "Best Review Article" for Sports Health. The award will be presented at AOSSM's 2015 annual meeting in July.
Family Medicine Resident Billing and Lost Revenue: A Regional Cross-Sectional Study
David V. Evans, MD; Jeanne Cawse-Lucas, MD; David R. Ruiz, MD; Elizabeth A. Allcut, MD; C. Holly A. Andrilla, MS; Tom Norris, MD
Letters
Brock, D.M and Scott, T. (2015).  Training physician assistants to be physicians [letter].  Academic Medicine, 90(3), 264.
---
Peer-reviewed Presentations
Back to top
Brock, D.M., Quella, A., Lipira, L., Lu, D., and Gallagher, T.H.  (2014).  Physician assistants and disclosure of medical error.  Academic Medicine, 89(6), 858-862.
Gallagher, T.H., Prouty, C.D., Brock, D.M., Liao, J.M., Weissman, A., and Holmboe, E.S. (2014).  Internists' attitudes about assessing maintaining clinical competence. Journal of General Internal Medicine, 29(4), 608-614.
Scott, C.S., Nagasawa, P.R., Abernethy N.F., Ramsey, B.W., Martin, P.J., Hacker, B.M., Schwartz, H.D., Brock, D.M., Robins, L.S., Wolf, F.M., Carter-Dubois, M., Disis, M.L. (2014). Expanding assessments of translational research programs: supplementing metrics with value judgments.  Evaluation in the Health Professions, 37(1), 83-97.
---
Feedback

This newsletter is the result of the collaboration of the Administration, Medical Student Education, Residency, Residency Network, Research, Sports Medicine, Palliative Care, and MEDEX sections of the Department of Family Medicine and Caroline Anderson, Assistant Vice President of UW Advancement. Many thanks to everyone who submitted content. A special thanks to Amy Clark, Website Assistant for Family Medicine, for her great work in getting this newsletter online. Please send questions, comments, and concerns to dfmnews@uw.edu.
Thank you!