The Osher Center for Integrative Medicine is committed to creating healing environments where patients and an interprofessional team of clinicians work together to define and pursue health goals. Our patients are an integral part of the healthcare team and participate fully in the decision-making process about treatment. We currently offer integrative medicine consultations and acupuncture services.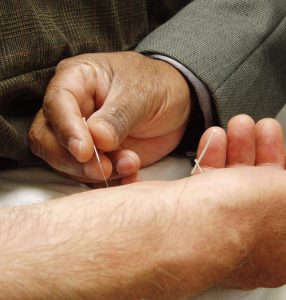 We provide consultations for patients with a variety of medical conditions, including chronic conditions, and can refer to practitioners from many different disciplines as indicated to ensure that you receive the best, most appropriate care. A new patient appointment typically lasts 30 minutes. During the initial appointment
Acupuncture is a technique in traditional Chinese medicine in which practitioners stimulate specific points on the body using very thin needles. There has been extensive research on acupuncture, especially for back and neck pain, osteoarthritis/knee pain, and headache, and it may be effective in treating other health issues., Each person will have a unique response to the treatment. At the Osher Center we bring together acupuncture treatments and Western medicine in a coordinated manner.
Finding care at the Osher Clinic for Integrative Medicine at the University of Washington:
Osher Clinic for Integrative Medicine at UW located at the UW Neighborhood Clinic in Ballard:
Integrative medicine consultations and acupuncture are currently available.
For Appointments:
Clinic Director: Iman Majd, MD, LAC
Clinic address : 1455 NW Leary Way . Ste 250, WA 98107
Clinic phone : 206.789.7777
Please note that on-line appointments at the Osher Center are not available at this time.