Using evidence-based research leads to more impactful healthcare innovations. We can help you get there.
Who We Work With
We work with small and large companies in the mid-stage of development of healthcare technologies focused on primary care settings (eg., physician offices, care in home, pharmacies, and assisted living), providers, and patients. 
The interdisciplinary collection of faculty associated with the PCI-Lab bring together the knowledge, skills and ability to work collaboratively with health organizations and industry partners (though grants and contracts) at multiple stages of the innovation cycle. The projects we pursue include needs assessment and workflow analysis, system design, implementation process and adoption, in context and usability testing, as well as scaling pilots and projects up to sustainable systems.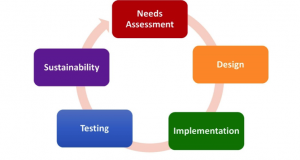 In combination with our expertise, we are able to leverage our partnership with the living laboratories of WPRN and UW Neighborhood clinics, our access to UW Medicine EMR data and our experience with large complex data such as claims and billing information.
We offer our services to small healthcare technology start-ups as well as well-established large technology companies. A unique offering of the PCI-Lab is our relationship with a diverse set of primary care clinics across the Washington, Wyoming, Alaska, Montana and Idaho (WWAMI) region:
The Institute of Translational Health Sciences' WWAMI region Practice and Research Network (WPRN), including 58 primary care clinics across five states with active engagement in clinical research;
The UW School of Medicine, including its 12 UW Neighborhood clinics in the Seattle metro region with approx. 250,000 visits per year.
These clinics are a mix of large and small clinics, operating in urban, rural, or underserved areas, with different payment models and contracting arrangements.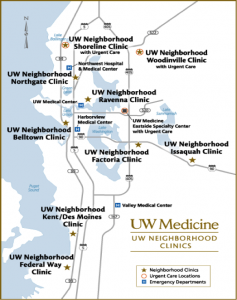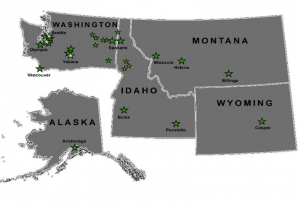 PCI-Lab offers expertise at all stages of the system development life cycle, from design to implementation. Any research conducted will be under the umbrella of the UW Institutional Review Board (IRB), grants and contracts management, and open publication policies. We can work under contract research, consultancy, and various public/private partnerships.
The Importance of Primary Care Innovation 
Primary care is the site where patients receive most of their health care in the US as well as in most other countries. Primary care encompasses specialties such as family medicine, general internal medicine, and pediatrics, as well as many related health professionals in key roles such as home health, assisted living, pharmacy etc. With new care delivery models in the US such as Accountable Care Organizations and Patient Centered Medical Homes, primary care providers are increasingly playing a role in coordinating care across the health care system over the patient's life continuum. In total there are approximately 1 billion consultations per year across the United States of America. Some of the complexities of primary care include:
Lifelong (birth to grave) continuity of care
Responsibility for the overall care of patients as they navigate between primary care, outpatient settings, pharmacy, urgent and emergent care, hospital stays – often with poor information sharing
Growing shifts from fee for service to quality based reimbursement and improved cost effectiveness of care
Aging populations with multiple co-morbidities
Effective primary care can be summarized as better experience of care, improved health of populations at a lower cost. And, truly the best way to achieve this Triple Aim is through Primary Care Innovations.Companies and entrepreneurs try to innovate through technology ideas, engineering/computer science skills, and a broad knowledge of the health care space. Unfortunately, these potential ideas and innovations often fail given limited understanding of the multifaceted primary care space. Following are few of the often overlooked challenges that result in general lack of technology implementation into primary care settings:
a lack of understanding of the needs, pressures and complexity of primary care
a lack of forward thinking or planning for the evidence that will be needed for regulatory approval,
insufficient experience to understand what drives implementation and sustainability of new technologies in this settings such as impact on the providers, on primary care workflow, and reimbursement systems.
Factors of successful innovation in primary care contexts are multifactorial, and include clinical skills, needs alignment, information access, software development, creativity, integrated workflow, and management skills. Our team and collaborators have considerable experience in the complex and challenging environment of primary care.