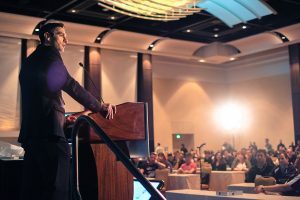 The University of Washington Sports Medicine Fellow is actively encouraged to become involved in scholarly activities during the fellowship year. Part of this experience includes involvement in clinical or academic research. While all fellows are given an option to design and implement their own project over the year, many have chosen to become involving in ongoing research conducted by faculty members.
Jonathan Drezner, M.D., associate director of the fellowship, has actively pursued research in the fields of emergency preparedness and sudden cardiac arrest in the athletic setting and is a leading international expert in this arena. Kim Harmon, M.D., fellowship director, also actively has pursued research in the fields of sudden cardiac arrest and tendinopathy. Dr. John O'Kane is actively involved in researching youth sports injury, including concussions. Dr. Ashwin Rao, program director, is developing a program to evaluate mental health concerns in athletic populations. Past fellows have routinely been awarded podium presentations to a national assembly at the AMSSM annual meeting for their research efforts. Our residents and fellows have been prolific at the AMSSM annual meetings, winning multiple research awards:
AMSSM's Harry Galanty Young Investigator Award
Jon Drezner (2004)
Ashwin Rao (2008)
Jessie Fudge (2009, 2012)
Irfan Asif (2011)
Brett Toresdahl (2013)
AMSSM Resident Scholar Award
Irfan Asif (2009)
Jessie Fudge (2010)
Brett Toresdahl (2012)
David Siebert (2016)
Andrew Gomez (2017)
AMSSM Best Overall Research
Jon Drezner (2008)
Irfan Asif (2010)
AMSSM NCAA Award
Ashwin Rao (2009)
AMSSM Best Case Poster
Justin Rothmier (2006)
It is expected that the fellow conduct and complete a research and/or QI project and other scholarly endeavors, including frequent presentations at local and national academic conferences, presentations of research symposia, development of posters for poster presentations and involvement in medical school and CME lectures.
View current Sports Medicine research publications.
For a complete listing of faculty research please click here.