General Trends
Prionitis algae typical of zones 1 and 2.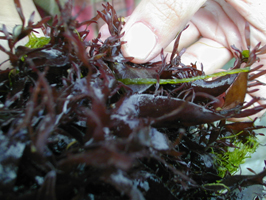 Our work at Argyle Creek revealed several interesting trends:
The physical and biological environment is extremely patchy, with homogenous areas on the order of 1.5 meters. Patches of mussels, barnacles, and oysters were especially common, and these in turn affected the distribution of other organisms.
The creek includes many organisms whose typical habitats are the rocky intertidal or subtidal; these animals (limpets, anemones) tended to be smaller at Argyle than is typical.
Larger organisms were located in deeper, slower moving water nearest the lagoon (crabs, algae, oysters).
Upper and lower surfaces of individual rocks were dramatically different in species composition. The upper surfaces are typically covered by a fine algal film.
The infaunal distribution of species is entirely different from that found on rocks, and includes many burrowing organisms.
The collection of animals is diverse, including representatives of most major phyla, though we often found only one or two representatives of a class or phylum (sea urchin, starfish, ascidians, large green/brown sea anemones, nudibranchs, flatworms, sabellid worm).
There were animals in which a single species was dominant and no or very few other related species were present: Mopalia, Semibalanus, C. gigas, Mytilus edulis, orange anemones. We found great diversity in coloration of limpets and Hemigrapsus crabs, although we do not know how many species were represented.