Current undergraduate, graduate or postdoctoral trainees interested in injury research are invited to join the Student Interest Group at Harborview Injury Prevention and Research Center. Our core focuses include traumatic brain injury, violence prevention, injury care, safe and active transport and global injury, among other injury-related topics.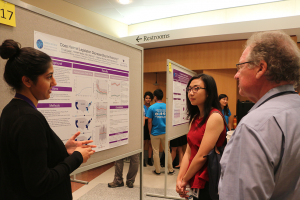 Benefits:
HIPRC mentorship
Access to HIPRC databases
Office facilities and resources, as available
Opportunities for networking
Responsibilities:
Completion of an annual survey
Acknowledgement of HIPRC on presentations, posters and papers
Inclusion of your name and research project on the HIPRC website.
Members are also encouraged to attend and participate in Work-in-Progress presentations at our Seattle office.
How to Join:
Contact HIPRC Research Scientist Brianna Mills at brmills@uw.edu or fill out the Methods Core Project Inquiry Form.
---
Other Student Opportunities:
Hands-on, intensive research training is available through HIPRC's summer INSIGHT Research Program for undergraduate and graduate students and the two-year T-32 Pediatric Injury Research Training Program for postdoctoral students.