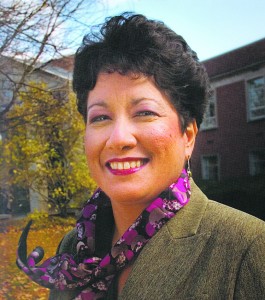 Dr. Ana Núñez will keynote the Injury-related Health Equity Across the Lifespan (iHeal) Symposium at the UW's Harborview Research and Training Building on May 23. Núñez serves as editor-in-chief of the journal Health Equity and Drexel University's associate dean for diversity, equity and inclusion.
The symposium is May 23, 8 a.m. – 5 p.m. at Harborview Medical Center. Registration is free for the day-long event, which will feature expert speakers and break-out sessions. The symposium's goal is to explore current research in health equity and injury as well as set a national agenda for research and policy.
Núñez has built a career focused on studying health disparities and improving health education and community outreach. Her research in particular has examined sex and gender health disparities, girls' and women's health, minority women's health and culturally effective care.
Recent publications Núñez has authored or co-authored deal with health disparities in breastfeeding, HIV prevention for survivors of domestic violence, and healthy community coalitions.
Research has identified significant disparities in healthcare access and outcomes between social and economic classes, racial and ethnic backgrounds, sex and gender, and other demographic groups. As a practicing internist in Philadelphia, Núñez is experienced in working with a range of communities within an urban setting. She is the principal investigator of the Philadelphia Ujima Coalition for a Healthier Community, which impacts people living in Southeastern Pennsylvania and New Jersey and brings together more than 28 region-wide collaborators. The organization focuses on educating local communities about diabetes, fitness, nutrition, relationships and heart health to foster wellness and reduce health disparities in culturally relevant ways.
In her recent writings, Núñez urges medical practitioners to go beyond good intentions and implement specific considerations and concrete actions to address health disparities. She writes that it's important to identify potential barriers to health care and healthy choices, learn more about the issues that unique communities face, and take a holistic, patient-centered approach to care and education.
The symposium is supported by the Institute of Translational Health Sciences and the UW's Harborview Injury Prevention and Research Center, School of Social Work, School of Medicine and Harborview Medical Center.
A public lecture with Dr. Adil Haider of Brigham and Women's Hospital, who is credited with establishing the field of trauma disparities research, will also be offered May 22, 6-7:30 p.m., at the UW School of Social Work. Registration is required for either event.