Gardening Answers Knowledgebase
Knowledgebase record #116
---
Reviewed by: Brian Thompson
Review date: 2015-06-01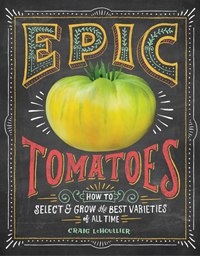 Can you grow "Epic Tomatoes" in the Pacific Northwest? A challenge, perhaps, but this new book by Craig LeHoullier will inspire you to try. Yes, he's from Raleigh, North Carolina, but he lived in Seattle early in his gardening career. He's most interested in heirlooms, suggests a rainbow of color options to try (a brown tomato anyone?), encourages you to grow from seed, and enlists the help of regional gardeners in finding the best varieties for our cool summers.
Published in the June 2015 Leaflet Volume 2, Issue 6.
Keywords:
Reviews
---
Need an answer to your gardening question? Ask us directly!