Gardening Answers Knowledgebase
Knowledgebase record #12
---
Reviewed by: Brian Thompson
Review date: 2014-03-12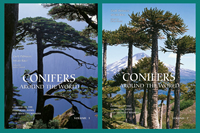 It is a nice balance that a publication of equal stature to the RHS encyclopedia on cultivated conifers has been recently published on conifers in the wild. "Conifers around the World" authors Zsolt Debreczy and István Rácz have been working together since 1975. The predecessor to this current title was published in 2000 in their native Hungarian; Kathy Musial of the Huntington Botanical Gardens provides valuable editing skills to this much expanded English edition.
The result is massive (again, in two volumes), but very manageable. The authors' intention is to "present photographs of conifers in their natural habitats in a consistent format." These larger images are breathtaking, and are supplemented with close-up photos of cones, leaves, and any distinguishing features. The accompanying text is concise but unlike some botanical descriptions is very readable and reflects the authors' sensitivity to conservation, local culture and ethnobotany.
The focus is on temperate species, and the layout is by broad geographical areas with a detailed description of the geological, vegetative, climatic and human history of each. Maps are used liberally to show topography, sites of major conifer forests, floristic provinces, and the ranges of species. The extensive introduction is a joy to read despite covering some pretty dense subjects, including taxonomy, conifer identification, morphology (lots of drawings help the reader with these), and the history of the earth's climate and other factors that have impacted the distribution of conifers we find today.
The appendix is also fun, with various essays that didn't quite fit elsewhere, and a "bark gallery" giving eye level close-ups. The Pacific Northwest is clearly dear to these Europeans, as the two photos that accompany the Preface are from Washington State, including the authors' portrait standing in front of a giant Sitka spruce (Picea sitchensis) in Olympic National Park. On the inside of the back cover of Volume 2 is the "Sell the Land?" speech attributed to Chief Sealth; a suitable closure to this very rigorous but also very passionate and personal publication.
Keywords:
Reviews
---
Need an answer to your gardening question? Ask us directly!