Gardening Answers Knowledgebase
Knowledgebase record #120
---
Reviewed by: Laura Blumhagen
Review date: 2015-08-01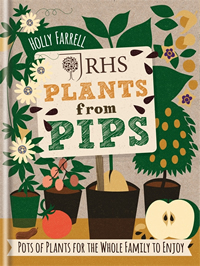 Working in the kitchen, have you ever wondered whether you could grow peppers from pepper seeds? How about a mango tree from a mango pit? This book for gardeners of all ages explains how to germinate a wide range of commonly-seen seeds most people would usually toss in the bin. The entries detail what each plant would need to grow on to maturity, while an illustrated section at the end highlights basic gardening techniques as well as common problems and solutions.
Published in the August 2015 Leaflet Volume 2, Issue 8.
Keywords:
Reviews
---
Need an answer to your gardening question? Ask us directly!