Gardening Answers Knowledgebase
Knowledgebase record #130
---
Reviewed by: Brian Thompson
Review date: 2016-10-01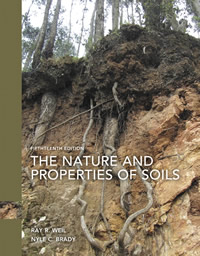 "If you are a student…you have chosen a truly auspicious time to take up the study of soil science." This encouragement is found in the preface of the new fifteenth edition and is explained by emphasizing the growing need across many fields for scientists and managers with this expertise.
This venerable publication – the first edition was in 1909 – can be read in depth, but at over 1,000 pages more likely will be used as a reference book for learning about a particular interest or to solve a specific problem. Throughout, it is very readable, and will be of value to those at almost all levels of soils knowledge. While this new edition is restricted to use in the Miller Library, the still authoritative fourteenth edition (from 2008) is available to check out.
Published in the October 2016 Leaflet for Scholars Volume 3, Issue 10.
Keywords:
Reviews
---
Need an answer to your gardening question? Ask us directly!