Gardening Answers Knowledgebase
Knowledgebase record #131
---
Reviewed by: Laura Blumhagen
Review date: 2016-10-01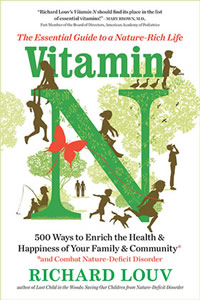 New on our shelves this month you'll find Richard Louv's new book, Vitamin N: the essential guide to a nature-rich life. Joining his earlier work, Last child in the woods: saving our children from nature-deficit disorder, this thought-provoking yet hands-on manual introduces many simple ideas for getting outside and benefiting from everything nature has to offer, no matter one's age and ability.
While the book will be useful for parents of small children, it also covers what individual teens and adults can do to have a nature-rich life as well as how teachers and grandparents can support outdoor play and learning for the children in their lives. Check it out!
Published in the October 2016 Leaflet Volume 3, Issue 10.
Keywords:
---
Need an answer to your gardening question? Ask us directly!